Downtown Manager
1211 Washington Street
Perry, GA 31069
Drink and Dine Downtown
Throughout the months of June and July, you can spend $150 at Historic Downtown Perry's restaurants and bars and earn a $25 Downtown Dollars gift card!
To receive the $25 Downtown Dollars gift card, you must provide itemized receipts totaling at least $150, not including tax, tips, or gift card purchases from downtown restaurants and bars. The program will run from June 1 – July 31, 2023, or until funds are depleted.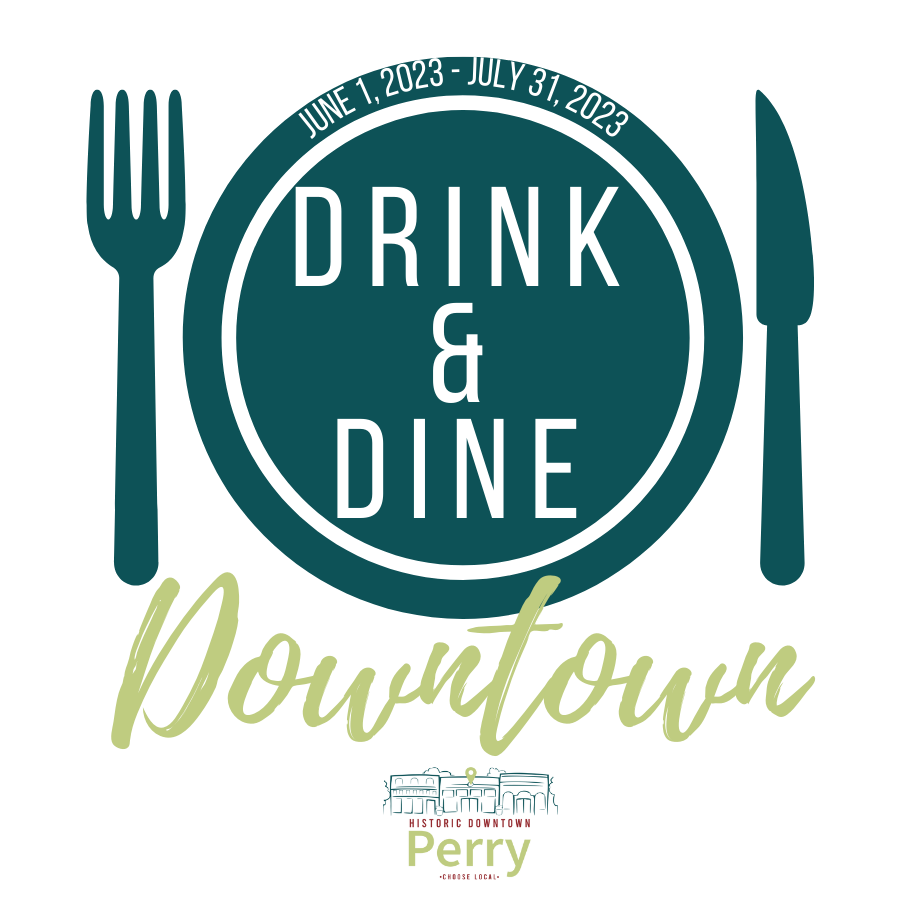 What is an itemized receipt?
It shows what you ordered, and what your total was before tax and tip. It is the same receipt you would use if you were requesting reimbursement for travel expenses through your employer.
Only funds spent on food or alcohol are eligible for this program. Taxes, tips, or funds paid to purchase gift cards or gift certificates are not eligible expenses.
How do I submit my receipts?
Receipts can be submitted along with your contact information by completing the form here.
Can I share a receipt with someone else if we split the cost of the meal?
No, it isn't possible for us to spend the time to track receipts shared by multiple people. We recommend that one person claim the receipt and share the $25 gift card.
Can I submit receipts for a bar or restaurant outside of Downtown Perry?
No, this is a program funded by the Perry Main Street Advisory Board and Perry Downtown Development Authority. The receipt submission form will only allow you to submit receipts from among the bars and restaurants from the Downtown District. If you notice a bar or restaurant from downtown is not in the approved list on the submission form, please email Alicia.Hartley@perry-ga.gov and we can research the issue. Receipts are accepted from items that are consumed on premises.
Can multiple people use the same receipt for separate submissions?
No, once a receipt is used on one submission, it is no longer valid to be used for a different submission. If we notice that multiple people submit receipts for the same restaurant, same amount, and same date, we will compare the receipts to ensure they are not an identical time stamp and items. Please do not try to cheat.
Am I eligible for more than one $25 Gift Card?
Yes, for each $150 you spend at downtown bars and restaurants you will receive a $25 Downtown Dollars gift card. Receipts can only be submitted once.
What businesses accept the $25 Downtown Gift Card?
Not every business in Downtown Perry accepts the gift card. A list of stores that accept Downtown Dollars can be found here. If your downtown business would like to accept Downtown Dollars, please contact Alicia.Hartley@perry-ga.gov to get registered.
Is this a physical gift card?
No, the card is available electronically or, if you choose, you can print it on a piece of paper. You can show the card to the vendor on paper or your phone, and they key the number in manually in the CC terminal. You can only redeem this card at participating vendors. Participating businesses can be found here.