Applications for consideration of the 2022 Black History Month Banner Project have closed as of September 1, 2021. Thank you.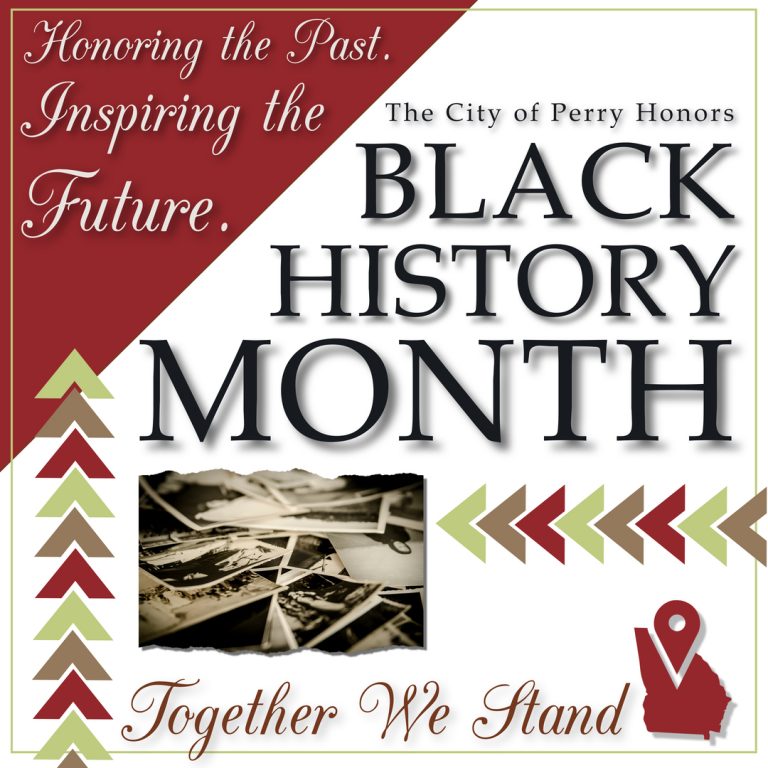 Honoring The Past. Inspiring the Future.
Join us as the City of Perry celebrates Black History Month by recognizing distinguished African Americans who have made an impact in their hometown of Perry, Georgia. The mission of the City of Perry's Black History Month celebration is to connect all citizens with knowledge and reflection on the varied accomplishments of our African American community. It is our vision to create an atmosphere where heritage is shared, celebrated and preserved through stories, facts and impactful contributions that African Americans have had on the overall development to the City of Perry.
If I were to write all of the reasons that I am grateful for all the participants in the Black History memoratorium on a little piece of paper, they would fill the entire room. On behalf of the City of Perry, I am blessed and grateful for your help and support for this historical event. I doubt I would have been able to complete a project of this magnitude without you doing your part. Your willingness and cooperation is a big part of why this project was so successful. I am looking forward to everyone getting an opportunity to see the completed work. I am honored to be a part of building such a phenomenal foundation for the history of Perry.
In my experience, it is the community and citizens that make our city a beautiful place to live. Each and every person that contributed to the Perry African American history project deserves credit. Everyone worked together to get the project completed and I want to thank you collectively and individually. I am sincerely honored to be a part of such a momentous event for your community. Let's continue to partner to build a fantastic foundation for our beautiful city.

Sincerely,
Phyllis Bynum-Grace, City of Perry Councilwoman Albert Crumbley is an Honor Graduate of Voorhees College (Magnum Cum Laude). He was captain of Voorhees College Men's Basketball Team 2007-2008. Voorhees College 2008 Student of the Year. Member of Kappa Alpha Psi Fraternity Incorporated. Highest GPA Amongst all Male Athletes at Voorhees College in 2008. All-Academic Team 2006-2007, 2007-2008. Brothers Alvin and Eddie Joe Cainion owned and operated Cainion Farms and the Cainion Masonry Company in Perry, GA for over 50 years. Cainion Farms produced and harvested hundreds of acres of wheat, soybeans, corn and peanuts for both subsistence and commercial use. As one of a very few black-owned farms in the area, the brothers advocated for the farm community as active members and office holders with the USDA Farm Service Agency of Middle Georgia. Additionally, the Cainion Masonry Company was widely known for its high quality residential and commercial brick masonry work, as well as, being a loyal employer for local artisans and tradesmen.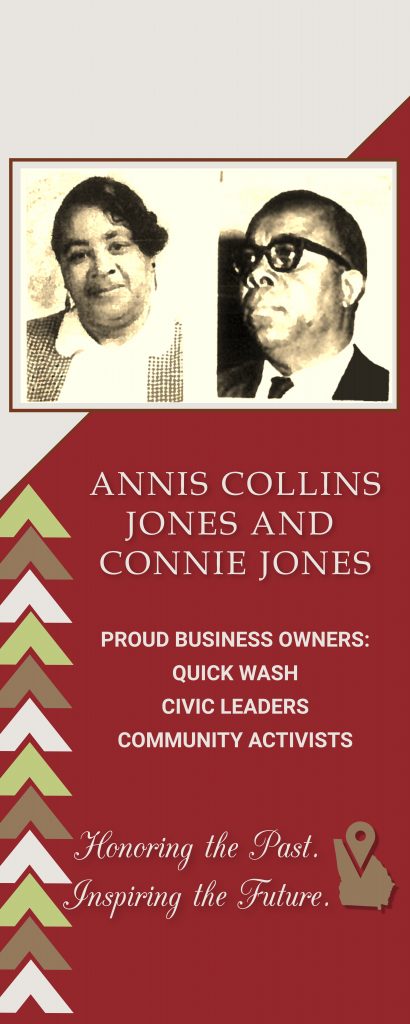 Ms. Annis Collins Jones was a teacher at the Mt. Nebo School in her earlier years and later taught sixth grade at the New Hope School. She studied at Spelman College, Tuskegee Institute and Fort Valley State College. She held memberships in several religious, educational, and civic organizations.
Connie Jones was a civic and community leader, the President and chairman of the Adult Training Union, which was responsible for the recreation and pool in the Creekwood community. Mr. Jones was also the first black person to run for City Council in the city of Perry in 1969. Mr. and Mrs. Jones also made quite a prosperous and helpful business with a neighborhood Quick Wash washerette and dry-cleaning establishment in their own backyard. Mr. Antonio Napier is the owner of Instyle Cutz Barbershop since 2014. Perry, Georgia is his hometown. He graduated from Middle Georgia Technical College Master of Barbering Program in 2009. Mr. Napier and his wife are the parents of 6 children and 12 grandchildren. Antonio was ordained a minister in 2007 and assigned the duties of Superintendent of Sunday School for Church of God By Faith in Roberta, Georgia. Being concerned about his clients during the pandemic, he offered his services to his clients homes and nursing homes. Arthur served 40 years as a Police Officer and obtained the rank of Sergeant. Arthur was one of the first black field training officers and trained hundreds of officers as they began their service with the police department . Arthur was shot in the line of duty in 1989 and later received a Purple Heart. Audrey D. Davis was born and raised in Perry, Georgia. She has 4 children and 4 grandchildren. After serving in the United States Army, she began a 40-year career as a Certified Respiratory Therapist with Houston Healthcare. Since retiring, she is now able to devote more time to one of her first loves, baking. She creates amazing cakes and pies for any occasion: weddings, birthdays, retirements, or simply desire a delicious delicacy on a given day. Her business is Cakes by Dina. Her first cookbook is coming soon. Mr. Augustus Hodges, known to many as "Gustus", dug fresh water wells in backyards of homes. Mr. Hodges was also known for his candy making. As a matter of fact, he was the best candy maker in the county. Mr. Hodges was also a veteran and retired from Robins Air Force Base. Bernice graduated from Macon Technical College's Cosmetology program. She was the owner/operator of the Bernice Beauty Shop in Perry, Georgia for over 20 years. She was also employed at Robins Air Force Base in Warner Robins, Georgia as a Civil Servant, retiring in 1990 after over 25 years of service. She then was employed with the Thomas Proud Child Learning Center in Perry as Director of the after school program for years. Not really have a high school diploma, Bernard Dixon still attained a lot in life. He taught himself how to construct houses and any thing that he saw a picture of, he would draft it on paper and build it. He was always a caring individual who would lend a helping hand to others to achieve or help them meet their goal. Born in 1934 to the parentage of Robert Lee "Sweetpea" Gray and Sarah Garman in Perry, Georgia. She received her education from Houston County Training School. Bertha's contribution to the community has been eminent. She worked at the New Perry Hotel to sharpen her culinary and communication skills for many years before venturing into her own family business, which was called "Uniques Catering Service". She states that her ultimate goal was to bring an upscale food service for weddings, anniversaries, and other engagements to the local area. She volunteered her time and personal resources at her church to feed the youth every Wednesday night. Affectionately known as Mrs. Bay by many, the use of her oratorical communication skills has inspired adults and youth to not to do as little as possible, but to make full use of all of their God given gifts to prosper in life. Brianna Jenkins is a native of Warner Robins, GA and a proud product of the Houston County School District. She attended Clayton State University and obtained a B.A. in Communication & Media Studies ('17) and Troy University to receive a M.S. in Strategic Communication ('19). She truly has a passion for people and has been told that she has the gift of gab! In her spare time she enjoys serving at church (Hebron Fellowship Baptist Church), spending time with loved ones, and volunteering within the community through Delta Sigma Theta Sorority, Inc. and several other organizations. She even dabs into a little bit of YouTubing and Content Creation. Recreation and programming has her heart right now as she currently works for the City of Perry in the Department of Leisure Services as the Senior Secretary. She loves her profession and all that the career field has to offer as, "Service to others is the rent you pay for the room here on earth," - Muhammad Ali. Carlton Griffin was born February 5, 1930 in Perry, Georgia to the parentage of the late Faustine Collins and the late Willie Griffin. He was married for 44 years to his high school sweetheart, Rebecca Grace Griffin. They had 3 children. Before attending Fort Valley State, where he majored in Education, Carlton served his country in the United States Army during the Korean War. He was so severely injured during the Korean Conflict that he was honorably discharge and retired from the Army. For his bravery, valor, and heroism, Carlton was awarded the Purple Heart, National Defense Service Medal, Korean Service Medal with three bronze service stars, United Nations Service Medal, and the Sharpshooter Badge with rifle bar. Carlton was employed with the United States Postal Service (USPS) as a mailmain (now called a letter carrier) and he worked in Indianapolis, Indiana and Macon, Georgia. He retired from the Macon post office in 1986 after 28 years of dedicated service to the USPS. He opened a barbecue restaurant in Perry called Ye Olde Smokehouse in 1986. Entrepreneur, Fashion Designer/Stylist, Interior Designer, and Beautician are just a few of the many hats that Catrelsa wears proudly. She has been in the fashion industry for more than 20 years. Each October she presents "Unite for a Cause Fashion Show" in support of survivors of those who have a family member that has passed away from cancer. Her business, The Palace Boutique, is located at 753 Commerce Street in Perry. She also has a branch out of fashion room, The Glam Room, which she operates from home. She loves to inspire others to believe and have faith in whatever gift God has given you to give birth to it. Clarence Bernard Dixon is a native of Perry, Georgia. He served his country during the Korean Conflict in the United States Army. He was a member of NAACP, Adams Lodge #735, and Southern Christian Leadership Conference in Perry and Houston County. As a member of SCLC, he served as president of the organization for many years. He was the first African American to become a member of the civic organization, The Perry Lions Club. He was a dedicated member of Greater Union Baptist Church where he served in several positions, chairman of the deacon board and Sunday School teacher. Clarence Copeland lives in Perry, graduated from HCTS, served in the US ARMY as a Combat Veteran and retired after 23 years of service. After 35 years of civil service at RAFB as an A/C sheet metal mechanic, he is now the owner of CC Bonding LLC serving all of Houston County and surrounding area. Chantavvia is a wife and mother of two. She finished college in the field of Criminal Justice. She worked for Macon-Bibb County as a firefighter for 6 years. During that time, she was able to earn several certifications. Her highlighted accomplishments are being EMT certified, Fire Inspector I certified, and a Fire and Life Safety Educator. She assisted in teaching EMT to a recruit class, and is also a CPR Instructor. She is now a recently certified Code Enforcement Specialist working for the City of Perry. She is excited about starting a new journey in a new city! Charlie Brown has currently been with the city for 4 years and has worked in 4 divisions and now serves as the Public Works Landscape Supervisor. Charlie is married and a father of 4. Charlie has 7 other siblings. Charlie is a graduate of Perry High School. Charlie earned a diploma from Central Georgia Tech as an Auto Body & Paint technician after graduation. In his spare time Charlie assists his father in their family business as an undertaker. Charlie now uses his background skills in landscaping to coordinate the maintenance of grave spaces for the City of Perry. One of Charlie's future goals as the Landscape Supervisor is to become the Landscape Manager managing all field operations crew that will maintain and landscape the properties in the City of Perry. Charlie's 4 kids are his daily inspirations. Charlie enjoys working in the Public Works Landscaping Department for the City of Perry. Constance Paige was raised in Barnesville, Georgia where she was a student in the Lamar County School system. While in high school, she participated in student council and was a member of the varsity basketball team. Constance graduated high school as an honor graduate. Constance was later accepted as a student to Fort Valley State University. During her matriculation in college, she maintained her active involvement with student council and was president of the Student Government Association (SGA) for two consecutive years. Constance was a member of the Criminal Justice Club and became a member of Delta Sigma Theta Sorority, Inc. Upon graduation, Constance graduated with academic honors and received a Bachelor of Arts in Criminal Justice.
In August 2006, Constance began her career in criminal justice and was hired as a patrol officer with Perry Police Department under the leadership of the late Chief George Potter. As an employee with Perry Police Department, Constance has served as a patrol officer, a school resource officer, and is currently a detective in the Criminal Investigations Division. Since her employment with the police department, she has obtained a Master of Science degree in Criminal Justice. Constance maintains her involvement in Delta Sigma Theta and is currently the 2nd Vice President of the Warner Robins Alumnae Chapter. Constance is also a member of the Houston County Sexual Assault Response Team (S.A.R.T.) and is an adjunct instructor at Fort Valley State University in the Department of Behavior and Social Sciences. Debra Pressword is a native of Perry-Houston County, GA. She joined the Houston County Board of Elections team October 2005. Before receiving the job of Elections Supervisor, she worked as Registration Clerk and Absentee Lead in Houston County. She believes communication is the most important trait of any operation. She is especially passionate about the voters and ensuring that they receive what is needed to make their voting experience pleasant. Cora Lee Durham is a member of the Houston County Branch of the NAACP. In 1998, she was presented The Champion of "The Dream" Award. In 2015, she received a Civil Rights Warrior award. Additionally, she was presented a certificate from Oldfield Baptist Church in recognition of her accomplishments, hard work, dedication, and selfless-service to the African American community and the City of Perry. Cora Lee Durham was featured in the publication "Deep In Our Hearts: Nine White Women in the Freedom Movement" by Constance Curry and Joan C. Browning. Dora M. Rice was a native of Upson County. She lived in Perry for several years and retired from Robins AFB. In the late 60's she became an editor of the Houston Home Journal. Her column, "Negro Community News", kept the black communities well-informed. Mrs. Rice died on January 7, 1978. Drew Dodson was a Detective that served the City of Perry for more than twenty-two years. He was instrumental in solving many felony and misdemeanor crimes. He also assisted other agencies throughout multiple states with arrests of individuals who committed crimes. Dodson served as a Drug and Gang Investigator along with Internal Affairs. He also helped the department seize more than one million dollars during his time in service there. E. Laquanda Whitehead-Grady is the owner of LQ's Desktop Publishing and Copy Print Center established in 1999 in Historic Downtown Perry.
She operates a copy print center providing custom design and printing services to customers in Perry and surrounding areas. She is proud to operate the only Black woman owned print shop in Perry, GA. They also provide ancillary printing services to funeral homes in Houston and surrounding counties. Brothers Alvin and Eddie Joe Cainion owned and operated Cainion Farms and the Cainion Masonry Company in Perry, GA for over 50 years. Cainion Farms produced and harvested hundreds of acres of wheat, soybeans, corn and peanuts for both subsistence and commercial use. As one of a very few black-owned farms in the area, the brothers advocated for the farm community as active members and office holders with the USDA Farm Service Agency of Middle Georgia. Additionally, the Cainion Masonry Company was widely known for its high quality residential and commercial brick masonry work, as well as, being a loyal employer for local artisans and tradesmen. Eddrica Gary began her career as a Police Officer with the City of Perry Police Department in 2016. Eddrica is currently a Corporal and assigned to Perry Middle School as a School Resource Officer. Eddrica was featured on 13WMAZ segment for putting "Yay in Peoples Day" for her bright and caring spirit. Eddrica is the first female in her family to go into the profession of Law Enforcement. Felicia Hill was born and raised in Henderson ,GA. She is the mother of three children and three grandchildren. She is a licensed master barber where she received her education from Macon Technical College in the year of 2000. She also has an associate degree in business management from American Public University in the year of 2018. She is the owner of Felicity's Mobile Boutique and Hair salon. She loves serving her clients – she looks at it as a ministry. Standing behind the chair allows her to spread the good news of Jesus "you never know who needs uplifting and encouraging". She works faithfully at her church Greater Union Baptist where she serves on different ministries. She also is a part of a empowering ministry called Ladies on the Rise. She continues to write the vision and wait for her answer from the Lord. Fannie Pettie was one of the co-founders of Zeta Phi Beta Sorority, Incorporated. She was a Life Member and held membership with Delta Alpha Zeta Chapter in Brooklyn, New York. She is credited with organizing Omicron Beta Chapter in Brooklyn.
Fannie Pettie was born in Perry, Georgia. She attended public schools in Savannah, Georgia and continued her formal training at Georgia State College. Later, she graduated from Howard University with a Bachelor of Arts degree in Education. Post-graduate studies in social work and in housing have been pursued at New York University. Mr. Hill was a long time resident of Perry. As a Civil rights activist, he was a charter member of the NAACP and SCLC of Houston County where he served in the executive board. He was instrumental in organizing marches, sit ins, boycotts, and voter registration drives. He was an entrepreneur, owning a Pure service station at the corner of Macon Road for years. In the community Mr. Hill worked to ensure that the black children of Perry received an equal education, as well as citizens being treated fairly by law enforcement. He helped those who were incarcerated, homeless, and discriminated against. Rev. Georgia Taylor, one of the oldest known Oldfield residents who lived on Swift Street and the longest serving pastor of Sand Bed Baptist Church. He was the first pastor at Houston Mt Zion Baptist Church when it was established in 1903 and served faithfully for 20 years. Rev. Taylor was known to many in Houston County as one of the finest Nego Baptist ministers in Perry. He served many churches during his ministry. He was also instrumental in uniting the Farmers in the county, and chaired committees that raised funds for blood drives. Grover C. Jackson Jr. was the 1st black male to graduate from Perry High School. He was the prior owner of Jackson Photography in Warner Robins, GA. He is the owner of Jackson Handyman Service and Jackson Game Room. He was one of the few blacks from Perry to come back from Vietnam alive and well. Henry Thomas, along with one of his sons, Milton II "Nick", opened a pool hall and auto repair shop near Houston Lake and Swift Street for a brief period. Buddy (as he was called by many) was also a well-known bail bondsman in the middle Georgia area.
People knew that they could count on him for bailing them out even if they did not have any money. For those who could not pay, Mr. Buddy (as he was called) would barter crops, mechanical work, small arms, house repairs, etc, whatever his clients offered in exchange to pay off their debt to him. Hervia Ingram was a member of Perry City Council from 1985 to 1997 and served as Mayor Pro-Tem several times during his tenure. He served in the Houston County School System as a teacher and department chair from 1959 to 1984. He became the Director of Continuing Education at Houston Vocational Center in 1984 following graduate study in agribusiness and adult education, and he served as the Assistant to the Executive Director of the Georgia Agricultural Exposition Authority from 1990 to 1992. He has been a member of the Houston County Board of Elections and the Board of Tax Equalization, the Perry Area Convention and Visitors Bureau Board, the Middle Georgia APDC, the local Red Cross Advisory Board, and the Three Rivers Health Care Advisory Board. The House of Representatives adopted a resolution in 2000 commending Hervia for his exceptional public service career.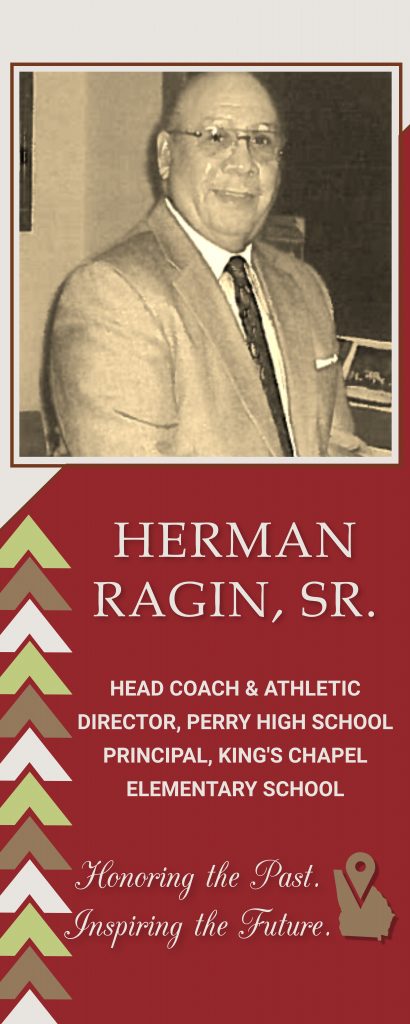 Mr. Ragin taught science and coached at the high school level from 1953 through 1964, becoming the first black head coach and athletic director in Houston County. In 1964, Ragin became the first principal at King's Chapel Elementary and remained there until his retirement in 1980. He taught the values he believes in – self-reliance, self-improvement, devotion, drive, discipline, temperance, hard work, thrift and personal responsibility. He taught that these values are established through education – the pathway that drives his basic optimism about life – and a faith in free will and individual confidence. Hodges Milton was an innovative man who planned and defined his future during times when options were very limited. By his own efforts, he became a self-made businessman. Mr. Milton was self-determined, insightful, and had progressive ideas. With this wisdom, he was able to achieve business success in local real-estate. He was the owner of the first black owned service station in Perry, located on Spring Street in the New Hope Community. He was also co-owner of the M&W Bottle Shop on Commerce Street.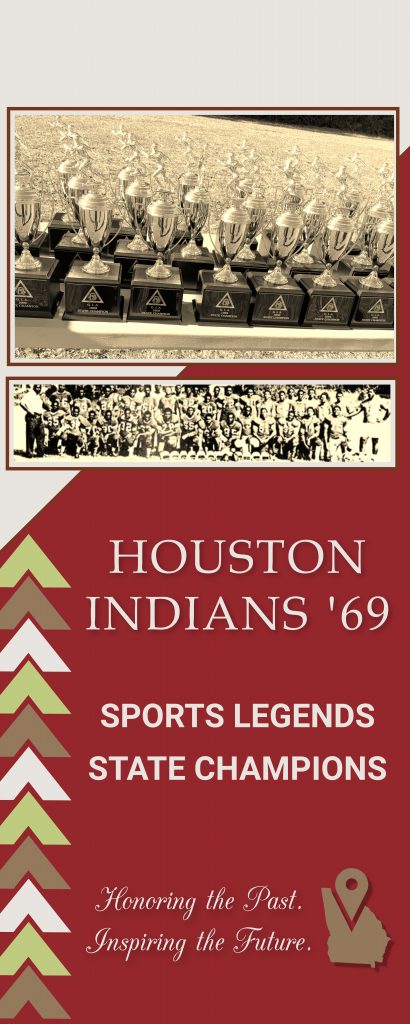 Firefighter Ian Harvey was born in Macon, GA. His family moved to Fort Valley, when he was in the 5th grade, and he is a 2011 graduate of Peach County High School. He began his full-time career with the Fort Valley Fire Department in 2012 and spent 2.5 years there before coming to Perry in November of 2014. He received his Fire Inspection certification in 2018 and was the first African American firefighter to serve the Perry Fire Department as a Fire Inspector. He currently holds the rank of Senior Firefighter and is a true leader in the department where he manages the hazardous materials program and assists with community risk reduction efforts. He is married to his beautiful wife Haley and together they have 2 daughters.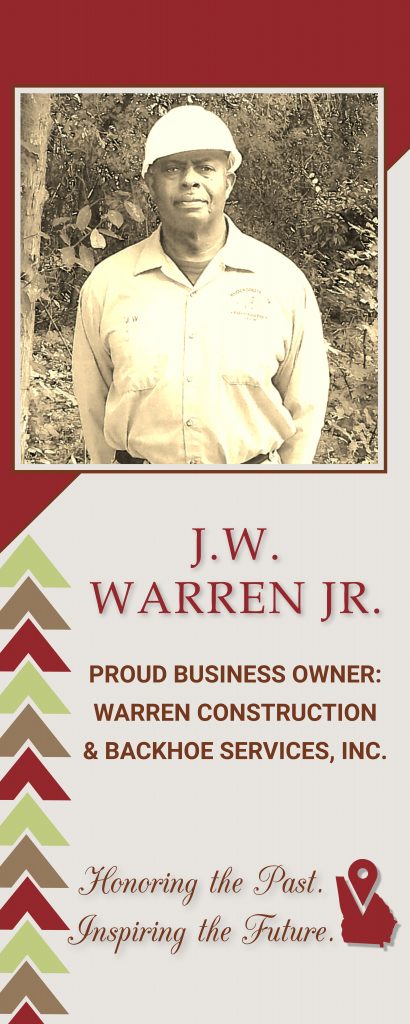 J.W. Warren, Jr. is the owner of Warren Construction and Backhoe Services Inc., established in 1989. J.W. is a licensed general contractor, specializing in concrete finishing, forming, layout - tear out and replacement, asphalt patching, and masonry sand delivery, serving the citizens of Perry and the surrounding Counties. Jack Johnson has been with the Perry Police Department for 25 years. In those 25 years he has served as a School Resource Officer, a G.R.E.A.T. Instructor, a Field Training Officer, Patrol Sergeant and currently a Senior Lieutenant. He has enjoyed serving the citizens of Perry Georgia because of the community support. He and his wife Sherry have been married for 30 plus years and have 2 children. His oldest son is a senior at Georgia Tech and his youngest is a freshman at Georgia State University. James Ragin was born in Peach County, but lived his adult life in Perry. For years, he owned the only dry cleaners in Perry. He collected, cleaned, and pressed the clothes himself. His sons were capable of helping. Jamaul and Jarvis Dean have been in the tree business for over 20 years. They are licsenced and insured, proudly serving Perry and all surrounding counties. Jamaul is a vice-trustee of St. James CME. Jarvis is a member and trustee of Mount Zion CME. Their business, Dean's Tree Service LLC, is family owned and operated. They specialize in difficult take down.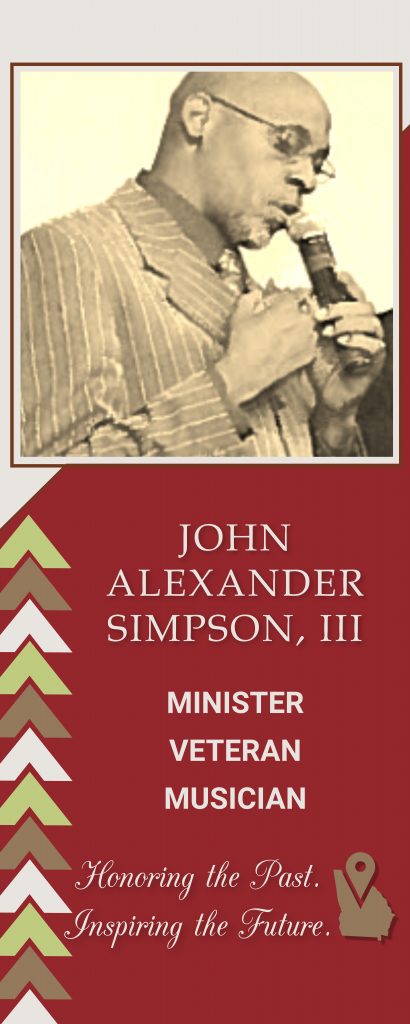 Originally from Brooklyn, New York, John Alexander Simpson, III is a distinguished Senior Pastor and Founder of the Temple of Miracles Worship Center in Perry, where he serves the members of the Houston County community through various forms of ministry and outreach. A veteran of the United States Army, Simpson is also a world-renowned recording artist, songwriter and singer, receiving several gold and platinum albums and is featured in the Georgia Music Hall of Fame. No stranger to community service, Simpson his a recipient of the NAACP Humanitarian Award (Houston County Chapter) and the recipient of the Distinguished Pastor's Award from the Phillips School of Theology. John T Newberry was one of the founders of Oldfield Baptist Church along with his mother Mamie Newberry. He was one of the founders of Creekwood Park, and the founder of Newberry and Son Vault Company. He was also a member of the Mason Lodge. He served as a bail bondsman for Perry and Houston County. John Noble was born in 1860 according to the 1870 census records. If that holds true, John started his undertaking business of caring for and burying the dead at the age of 16 and was teaching school at the age of 18. John served the black folk of Houston County for over forty years. He placed several ads weekly in the Home Journal. The one shown below was the last one that he ran on Oct 5, 1911. Johnnie Mae Harding was an elementary teacher for 32 years in the Houston County School System and worked a few years as an insurance agent for the Atlanta Life Insurance Co. She owned and operated Johnnie's Sandwich Shop and the Paradise Inn. Her commitment to serving her community was evident in her professional and personal life, as she served as a Girl Scout Leader, a member of GAE, NEA, and the Perry Women's Society. She helped others by filling out applications and documents for others, counseling, and advising members of the community. She mentored new and aspiring teachers, and students. With her endless positivity and loving spirit , she strived to motivate and help people in the community.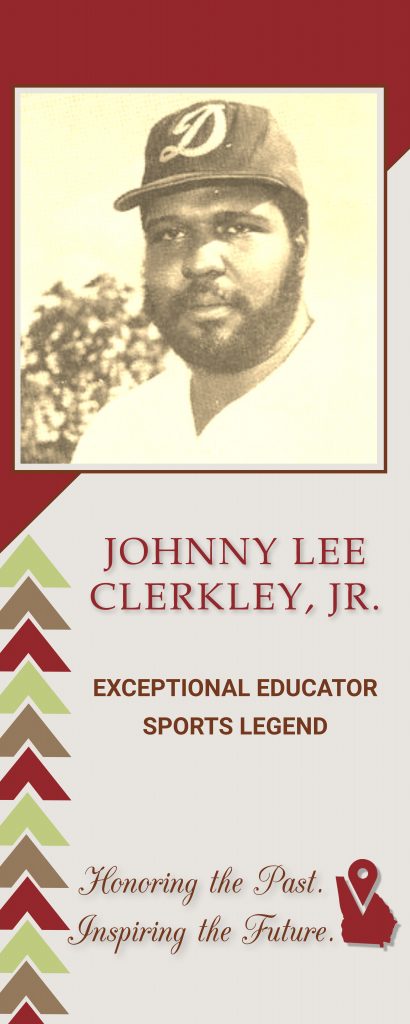 "Chuck" was the son of Johnny Lee Clerkley Sr and Ethelyn Newberry Clerkley. He was educated in the Houston County School System and graduated from Perry High School in Perry in 1970. He received a football scholarship from Fort Valley State College where he received several awards for his participation in sports including the 1973 SIAC Division II All Conference Defensive Lineman Award and the 1973 FVSC Best Defensive Lineman Award. He received his B.S Degree in 1976 and continued his studies toward his master's degree at FVSC and Georgia Southwestern College in Americus, Georgia. He was employed by Dooly County Board of Education as a Physical Education Teacher and football coach at Dooly County High School. He was named Teacher of the Year at Unadilla High School in 1980. He was also a member of the Georgia Association of Educatiors, National Education Association, Adult Training Union Inc and FVSC Alumni Association.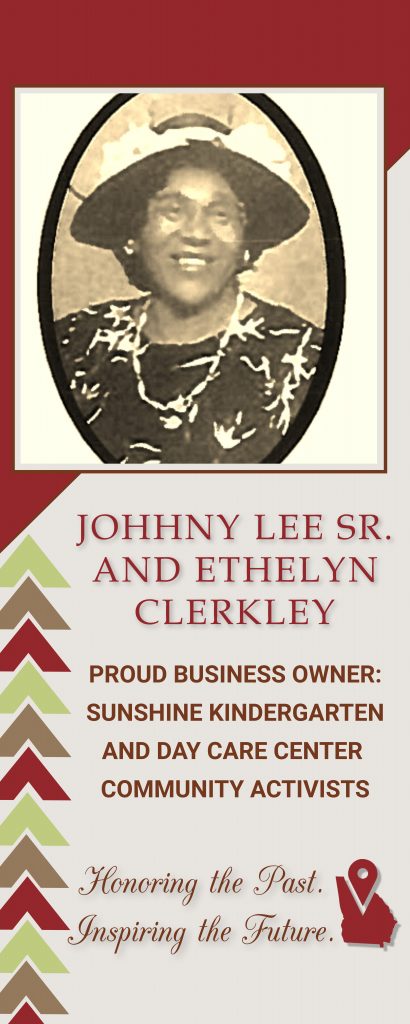 Ethelyn Clerkley, along with her husband, Johnny Lee Clerkley, Sr., were pioneers of the first day care center to be licensed in Houston County. The Sunshine Kindergarten and Day Care Center started with 12 children and was located on Sunshine Avenue. In 1965, the Adult Training Union was formed, and it took into its charter the Sunshine Day Care Center. The name was changed to the Adult Training Union Day Care Center. For almost 40 years, they served many people of all races. In 1966, the Houston County Day Care Program was formed and organized to aid families in the lower income bracket. Sponsors were Mart Pierce, Edward Lawson, William Montgomery, Carrie Mae and Ethel Bynum Williams. Ethelyn Clerkley was also a founding member of the Oldfield Baptist Church and the Creekwood Recreation Center in Perry, Georgia. She was also a member of the Georgia Coalition of Black Women, Inc.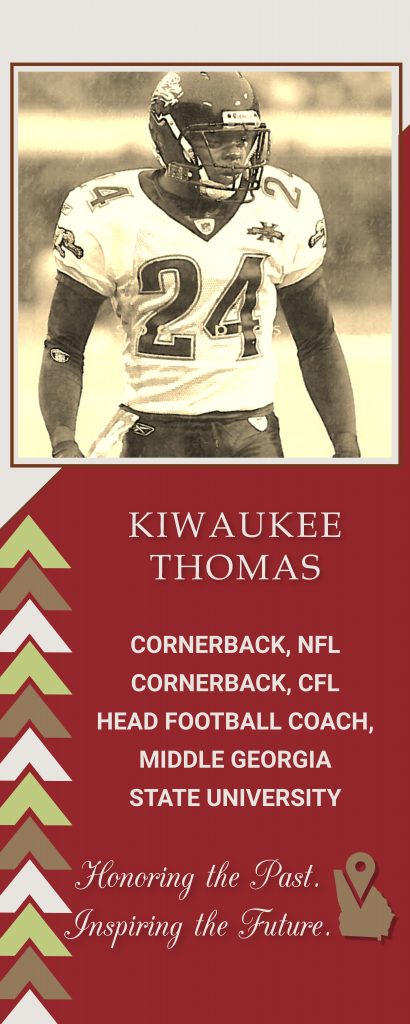 Kiwaukee Thomas, a native of Perry, GA, completed his bachelor's degree in Sports and Recreational Management at Ashford University in 2011 as an honors graduate. Kiwaukee is a 1996 graduate of Perry High School. Kiwaukee Thomas is the Assistant Head Coach/Defensive Coordinator for the Oklahoma Panhandle State University. Prior to joining OPSU, Coach Thomas spent two seasons as head football coach at Middle Georgia State University in Macon. Thomas played collegiately at Georgia Southern University, where he helped the Eagles to win three conference titles, played in back to back National Championship games, and secure the FCS National Championship in 1999. Thomas was selected by the Jacksonville Jaguars in the fifth round of the 2000 NFL Draft. He spent eight seasons in the NFL, playing for the Jags from 2000-2004 before playing for the Miami Dolphins in 2005. He then played for the Buffalo Bills in 2006-2007. Thomas retired following the 2008 season after spending the year with the Montreal Alouettes in the Canadian Football League. Sgt! Sgt! One of the privates yelled to Sgt. Larry Holmes as he ran down the hall. Your hometown is on the television. Sgt. Holmes went to the day room to see what was happening in his hometown of Perry, Georgia. Brown vs Board of Education had recently ruled that schools be integrated. However, students in Perry, Georgia had not been given their rights. He recalls seeing Ms. Cora Lee Durham and other protesters fighting for students to be allowed to attend school with white students as it was now their right. This sparked his interested in becoming an activist. In 1973, he returned home from the military and became a member of the NAACP. Soon after, because of his leading presence, he became president of the Houston County NAACP. He served in the role of president for 20 years and received the Black Heritage NAACP Lifetime Membership Award in 2004. He recalled the organization being instrumental in many community changes such as integration of schools, increasing NAACP membership and raising funds for the community. Mr. Holmes graduated from Fort Valley State University with a degree in Mathematics. He taught for three years at Northside Junior High. He left the field of education to work at Robins Air Force Base. After twenty-seven years as a civil servant, he now enjoys his retirement, being a grandfather, and watching the sports he loves and once officiated. Gail was born and raised in Perry, Georgia. A genealogist and self-published author of two books with regards to the Black History of Houston County, and a guide for Black Genealogy Research. She is the founder of the Houston County Black Heritage Society and the Houston County Black Heritage Bi-monthly Newsletter. HCBlackHeritage.com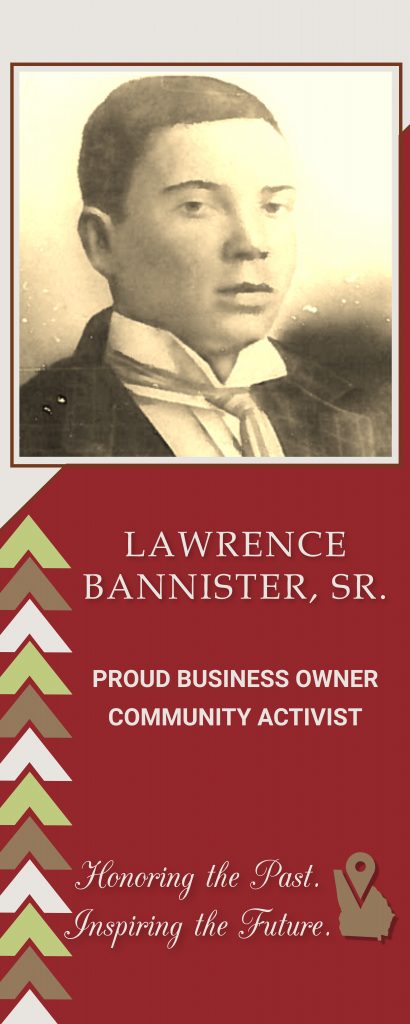 Lawrence was born in Perry on February 28, 1891. He was well known throughout the town of Perry for the houses he built for his neighbors and as a farmer on Houston Lake Road. He ran two farms, a Mom & Pop store in the Old Field Community, as well as a Black Hotel in the 40's and 50's. Lawrence was one of three members on the Black Board of Education.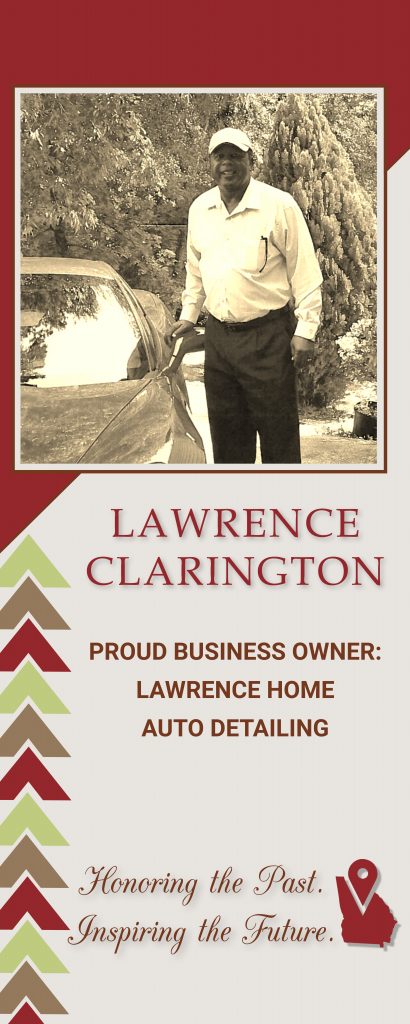 Lawrence Clarington is the owner of Clarington Home Auto Detailing. He has been in business in Perry for over 35 years. Clarington Home Auto Detailing is not just getting older, it's getting better. A proud husband, father and grandfather, Lawrence also serves on the City of Perry's Planning and Zoning Commission Board and as a Deacon at New Hope Baptist Church. Lawrence has served as an umpire for over 32 years with the Houston County Sports Officials. At 85 yards, he also holds the record for the longest punt return at Perry High School. He was a part of the Championship team at Houston County High School in 1969 then went on to play four years of football at Valdosta State University. Lawrence Taylor, better known as DJ Mixmaster T, was born in Montezuma, raised in the small town of Unadilla and now resides in Perry! He has been performing since he was teenager and worked with his first turntable at only sixteen years old.
From there, DJ Mixmaster T began to teach himself how to DJ - learning everything from blending music to scratching records - whatever sounded fun! He quickly found that he was most at home when he was performing, whether for an event or night club or simply jamming with his friends and family.
DJ Mixmaster T performs a unique blend of music from Country, Pop, Latin, Blues, Funk and R&B/Hip-Hop that enables him to stay ahead of the trends! He believes that music can serve as a connector within a community and that it is a vital element of our society and culture.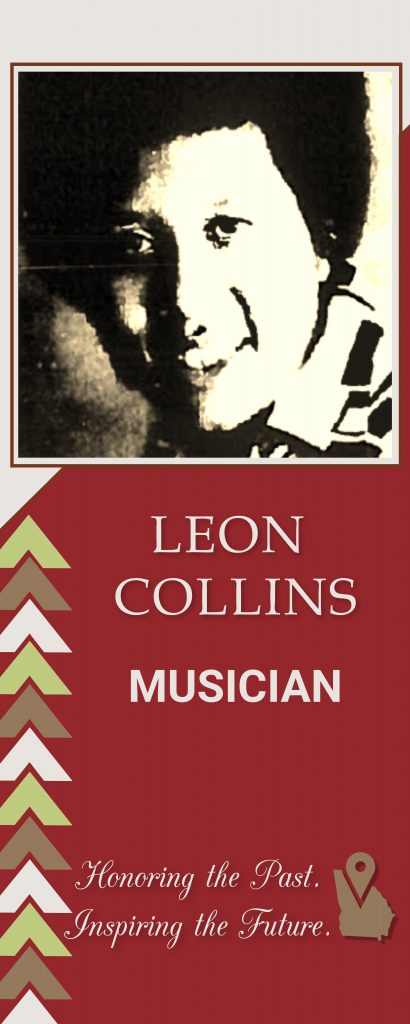 Leon Collins was born and raised in Perry, Georgia where his roots run deep. Leon started singing in church and school choirs at the age of 5 and continued to sing while in high school. By the mid-60s Leon had become a front man and sang lead vocals with the Vangaurds and the Ambitions. He broke out on his own and performed at Georgia Southwestern, Fort Valley State College, as well as other colleges and universities. In the late 60's, after a short military stay, Leon moved to Boston and recorded his first 2 songs, "Somebody Help Me" and "Sad Day Tonight". His single "I Just Wanna Say I Love You" has been popular on the UK Northern and Modern Soul scenes over the years. He was signed by Elf Records and has also had recordings with Audio Forty and Checker Records. Leroy Williams serves as a Senior Solid Waster Operator and Crew Leader with the City of Perry. Mrs. Ragin was a very talented and gifted seamstress, whose work went beyond the limits in Perry. People came from other towns and cities to get garments made. She could copy and duplicate styles shown in fashion magazines. She often drafted her own patterns from newspaper. Lionel Brown, Ed. D. has served as Superintendent of Peach County Schools since July 2, 2018. His professional background includes high school teacher/coach, high school administrator and Executive Director of Operations. Prior to coming to the Peach County School District, Dr. Brown was employed with the Houston County Board of Education in Perry, Georgia for 24 years. He and his wife Danielle and Children founded the Lotus Center, a non-profit faith based organization in Perry. The Lotus Center enhances the lives of others through community service, Christian enrichment, mentor programs for boys and girls, finanical training, summer enrichment and enhancement programs.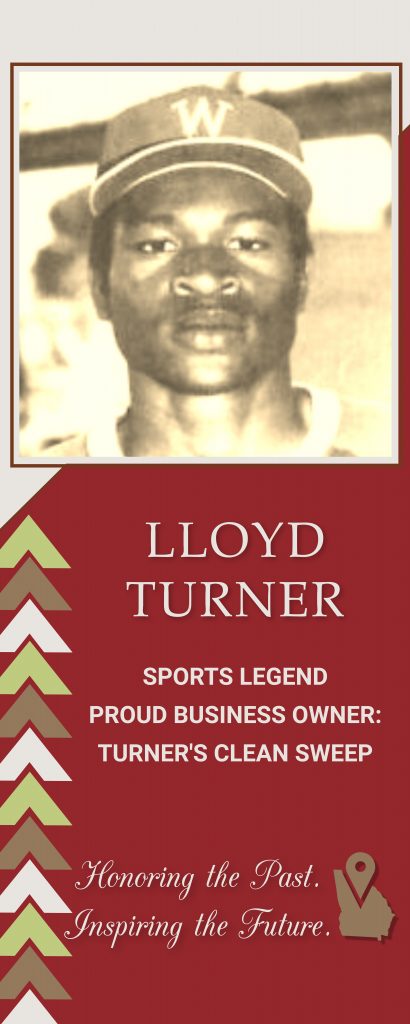 Born and raised in Perry, GA, Lloyd Turner, Sr. played baseball, football and basketball at Perry High School. Lloyd went on to play baseball at Fort Valley State and Middle Georgia College, where he was drafted in the third round to the Cleveland Indians. Turner played the positions of shortstop, third base, center base for two years before eventually exploring entrepreneurial opportunities. He is the proud owner of Turner's Clean Sweep in Hephzibah, GA. Louise Bell Roberts and George Roberts we're business owners in the New Hope community in Perry. She was known as "Miss Bell" to non-relatives and "Big Mama" to family members. Her husband George was a carpenter and built houses in New Hope and other black communities. In New Hope they own land houses, a barber shop, a beauty shop, and a grocery store combined with a lunch shop. During segregation of schools, they served many lunches to students at the Perry Training school. Marlon Rhodes has been a financial advisor with Edward Jones since 2016. Prior to joining the firm, he spent nine years in financial management, consumer, mortgage and small business lending. He earned my bachelor's degree in finance from the University of Georgia.
He is a dedicated financial partner and is incredibly passionate about educating individuals and assisting them in becoming prudent stewards of their finances. Working hard to simplify money matters for clients provides support for the realization of financial goals and building of stronger communities. In addition to work and family, he prioritizes serving my community. He is a 2019 graduate of Perry Leadership Institute and a member of Perry Rotary. He also serves on several volunteer boards including the Downtown Development Authority for the city of Perry and Navicient Health's Next Gen Advisory Council. He and his wife are active members of Beulahland Bible Church and in their free time, they enjoy working on DIY projects. Makeba Dean is the Owner of ShearKeba's Hair Salon and SavagelySavvyEvents. Makeba, has always had that artistic vision for hair and interior design and decor. Makeba's artistic gift started on the front porch of where she grew up at the age of 19. She attended Macon Beauty School in Macon Ga. There she received her Master of Cosmetology License. After that, she launched ShearKeba's Hair Salon. She has been a Master Cosmetologist for 25 years. Her vision did not stop there. In 2017 Makeba started another business as an Event Planner/ Decorator. She then launched SavagelySavvyEvents. Where she designs and decorate all types of events. Weddings, baby showers, birthdays, retirement dinners, and any type of special event. Makeba is now the proud owner of 2 local businesses here in Perry. Mrs. Mary Lou Dukes was a trailblazer and trendsetter in black haircare in Houston County. She attended cosmetology school in Atlanta and was the first skilled licensed hairdresser in Perry. Mrs. Dukes owned and operated Dukes Beauty Shop on Spring Street in the New Hope Community. She owned and operated Dukes Beauty Shop on Ball Street in Perry. In her shop she trained and prepared many ladies for successful careers in cosmetology.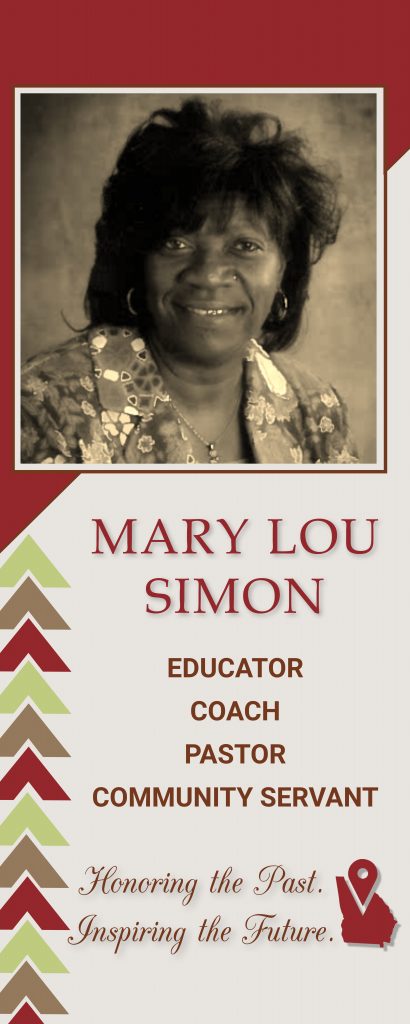 With more than seventeen years of loyal and dedicated service to the Houston County Board of Education, Mary Lou Simon served as a secretary at New Hope Elementary School. She also enjoyed coaching boy's basketball and girl's softball with the Houston County Recreation Department. Actively involved in her community, Mary Lou also served on the City of Perry's Clean Community Commission Board and was a coordinator for the Community Neighborhood Watch. She is also the pastor of Born Again Fellowship Church, which was brought into being through the vision of a small number of people who came together in Christian community to enhance a place of worship and strive to fulfills Christ's commission in faith and trust, and to live out the commission of the church. It is a place where believers not only meet with each other and worship God, but continue to reach out to our community and our world with the love of Christ. Mattie Murray Clarington was born in Vienna, GA to Willie & Lottie Murray. She attended school in Houston County. In 1958, she was married to Carlton Clarington, who later became a minister of the Gospel. She served as First Lady for more than 25 years. They raised 3 children. Mattie graduated from cosmetology school at Houston Vocational School. Upon graduating, she worked at a well known beauty salon, Curly Top Beauty Shop for a couple years before moving into her own beauty shop, Clarington Beauty Shop. She was also a cosmetologist at Summerhill Nursing Home for its residents. Mattie owned and operated Clarington Beauty Shop for 25 plus years before retiring.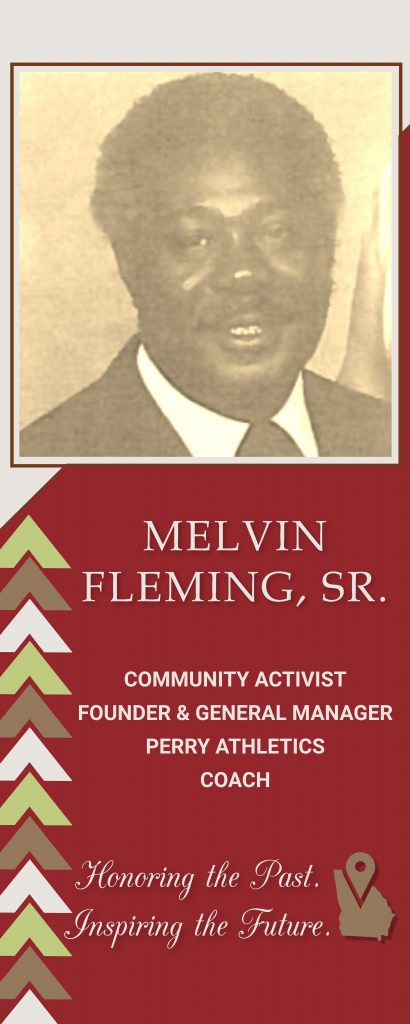 Melvin Fleming was active in his community and participated in the formation of Creekwood Park. Melvin was the founder and General Manager of the Semi-Professional Baseball team, the Perry Athletics. He was an excellent coach, turning his players into pitchers and hitters.
Melvin had high praises for all his players. He coached until his health failed in 1981. Under his leadership, the team won many awards for sportsmanship and athletic prowess on the field. The team served as a training ground for Eddie Solomon and several other professional baseball players over the years. Michael Golden is a native of Perry, Georgia. He is a 1986 graduate of Perry High School. He is the owner and operator of H&J Transmission, which is opened over 25 years ago. The shop's name is in memory of his deceased grandparents, Henry and Jessie Mae Golden. He served as a recreation football coach in Perry for many years. He is a member of the St. James C.M.E Church of Perry where he serves as the chairman of the Trustee Board. Nancy Graham is originally from North Carolina. She relocated to Houston County after her husband retired from the Air Force after serving 24 years. She earned a BS in Management from National American University in Rapid City, South Dakota. She is currently the Leisure Services Supervisor for the City of Perry. In this department she can continue her passion of working with the youth. She enjoys volunteer work as well. She currently serves as a Youth Director and Children's Church Coordinator at her local church. She has also worked closely with her husband to coordinate annual events such as fall festivals, Christmas programs, and a number of short-term programs for the youth. As a Leisure Services Supervisor, she was awarded certifications from the Carl Vinson Institute of Government UGA for Certified Local Government Finance Officer Program and Primary Governmental Accounting Series. She enjoys coordinating and planning activities for the Leisure Services Summer Camp, The Water Battle, Creekwood Splash and Bash and the Special Needs Egg Hunt. Her hobbies include interior decorating and crafting.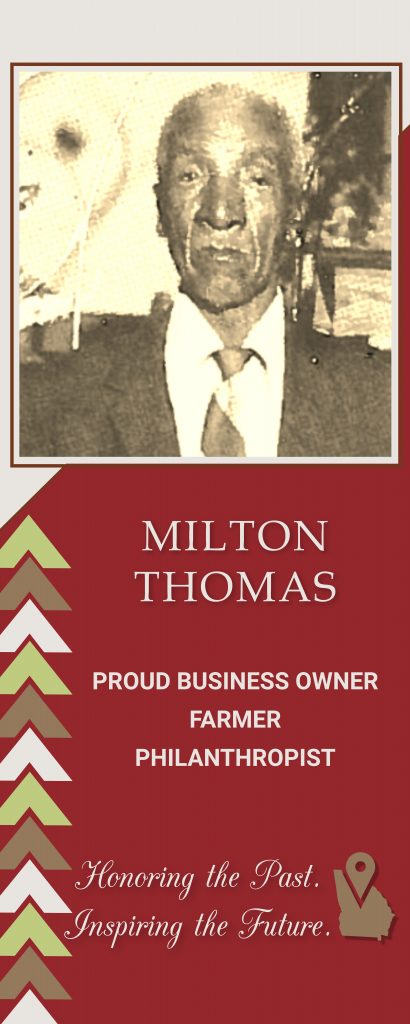 Milton Thomas was a small-time farmer and operated a small café on Houston Lake Road. He grew food to help feed the community. After taking a portion of his crops home to his wife and family, he graciously gave the rest of his crops away to families in need. Many families depended on his supply of food and were pleased to see him when he made his rounds. In his retirement years, on any given day, throughout Perry, Warner Robins, Fort Valley, etc. you would see Milton sitting on the tailgate of his truck selling peaches by the basket. Milton was one of the first black men employed at Robins Air Force Base during its formative years. Nathalie Rumph is the Administrative Secretary at the City of Perry Public Works Department. Nathalie has been employed with the City of Perry since January of 2020. Nathalie is the mother of 4 children with a son who is a Senior at Georgia Tech. Nathalie has a Bachelor of Science in Business Administration and an Associate's in Business Administrative Technology.Nathalie is a Certified Paralegal in which she completed her certification at Georgia College & State University. Nathalie retired from Peach County E911 after 19 years at Peach County E911 4 years as a 911 Supervisor. Nathalie enjoys sports and spending time with her kids and granddaughter.
Nathalie has set her 5 yr. goal to be employed with the City of Perry in either a management position or advancement position to challenge her skills. She intends to focus more on nonprofit, private and government grant funding skills. Nathalie enjoys helping others and encouraging others to work hard to reach their full potential goals.
Nathalie recently earned her CDL permit and is preparing to obtain her CDL license. Nathalie also recently completed the GMA Municipal Revenue Administration Certificate Program in which she plans to use to allocate revenue resources for Public Works. Nathalie maintains the rental and reservations for the Perry Events Center. Nathalie enjoys working in Public Works and is delighted to be an employee of the City of Perry. Ollie M. Ervin attended New Hope Elementary School and Houston High School. She integrated Perry High School when she was in the 11th grade in 1965. She graduated with the Class of 1967 becoming the first black female graduate under Professor Eric P. Staples. Omar Hill Dr and Marcus Green Jr are business owners of DnT Pressure Washing and Lawn Care. They offer residential and commerical lawn care and pressure washing services and operate their business under the motto of: "Making it look nice for an affordable price". They specialize in lawn maintenance, pressure washing homes, vinyl siding, driveway, and heavy equipment. They are a mobile company that is willing to go the extra mile for their customers. Their goal is to utilize company skills and perform at their highest level.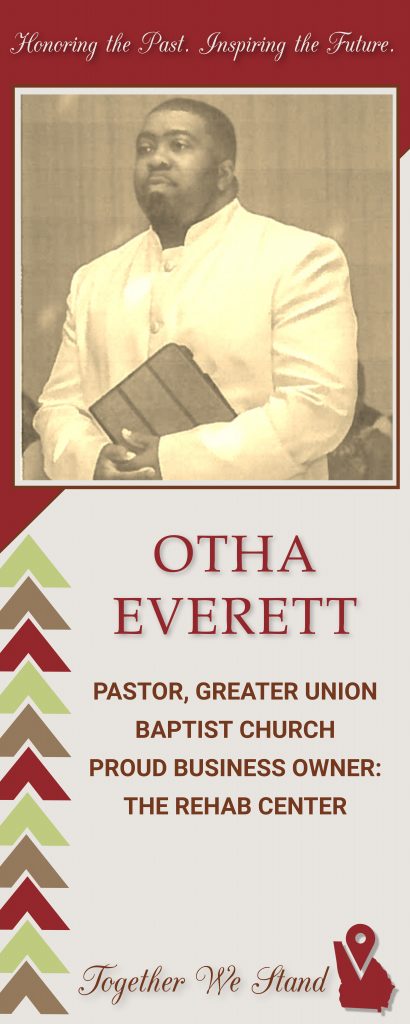 Pastor Otha Everett is a spirit-filled man of God who always has had a deep love and sense of compassion for others. Although best known for his gift of preaching, he also has a background in the area of music in which he plays the drums and loves to sing Gods praises. Educationally, Pastor Everett earned a bachelor's degree from Valdosta State University with a Bachelor of Science degree in criminal justice. He furthered his studies at Fort Valley State University where he obtained his master's degree in rehabilitation counseling. In 2021, Rev. Everett eared his ED.D. in counseling and psychology from Argosy University. In November 2015, Pastor Everett and co-partners opened The Rehab Center, which provides counselling and consulting services, located in Historic Downtown Perry on Carroll Street. Mrs. Ozzie M. Dixon was a lady of a few firsts in Perry, Houston Co. She was a leader within the civil rights movement and organizer of the first Girl Scout troops in Perry in 1964. By the early 1970 she had organized four different troops. They were Brownie Troop 104, Junior Troop 104, Cadet Troop 104 and Cadet Troop 384. She also enjoyed working with the young people within the Smyrna Baptist Church where she was attended and organized the Junior Church which consist of a youth Choir and Usher Board. In the 1960 when Interstate 75 was being constructed within Houston Co. she opened her home to some of the Black men who were working on the roadway and could not live in the main hotels in Perry. She prepared their meal (breakfast, lunch to go and dinner) l and provided them a place to sleep. The men that live with her considered it their home away from home. In reality Mrs. Dixon had the first Bed and Breakfast in Perry, Houston Co.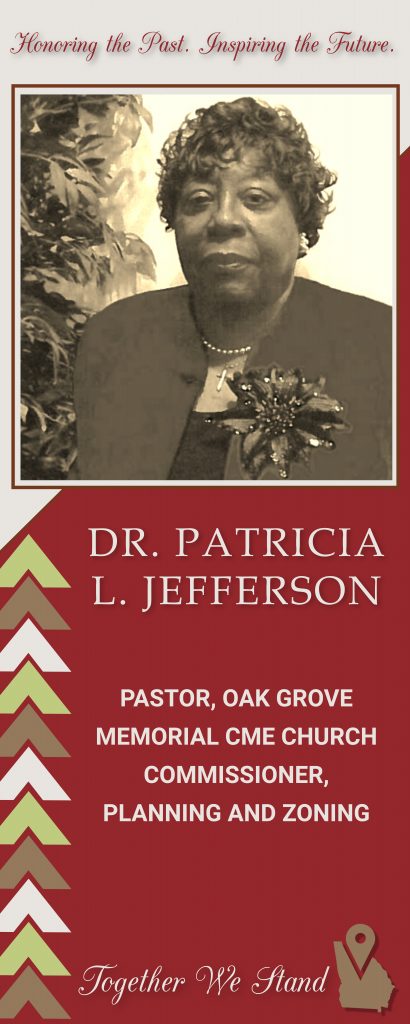 A native of Perry and graduate of the Houston County School System, Dr. Patricia Jefferson retired after twenty years of service with the Houston County Board of Education. Serving as a member of the Perry Ministerial Alliance, a commissioner on the City of Perry Planning and Zoning Board, an Treasurer for the Central GA Region of the CME Church, Dr. Jefferson also is the current Pastor of Oak Grove Memorial CME Church (Elko/Houston County) and a Chaplain for Perry/Houston Healthcare. Primrose Jackson was the first black beautician in Perry, GA. She started at 1210 Oldfield Lane in the year of 1939; she was 22. In 1940, she built a beauty shop behind her house. She was the beautician for Pierce & Butts Funeral Home in Perry. She also did hair for surrounding funeral homes in Houston and Peach Counties.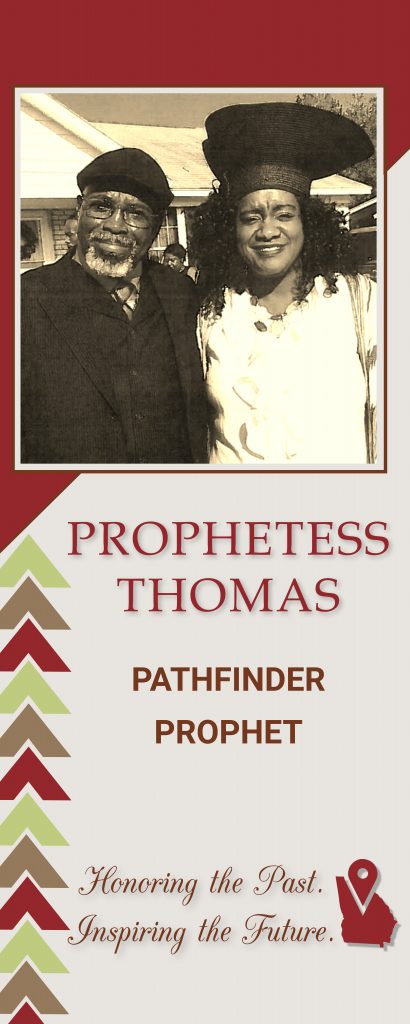 Open Heaven in the Vineyard Holiness Church of Perry was birthed from a dream of having bible study under a tree in New Hope of Perry. Every Thursday we met there with our instruments singing, praising God, praying and teaching at 1217 W.F. Ragin Drive. Behind the little white church we lifted up the name of Jesus. After a vision of being inside of the church was shared by Prophetess Thomas. She prophesied to the building and claimed it, believing in Divine purpose. The Prophecy unfolded 3 months later for inside service for "A house of Fellowship" by faith. She also had a dream of being an entrepreneur owner of the "Family Value Thrift Store" which was manifested by faith. Over the past 12 years, she has been an author, song writer, and the CEO of "Impacting Souls Outreach Ministry". She believes in putting Go first in all things, whom chose the Isaiah 58 fast in her daily life. Her favorite scriptures are Romans 10:9 and Psalms 51. She walks by faith and not by sight. Detective Lieutenant Quridsha Gillam is in the Criminal Investigations Division (CID). She has been employed with the Police Department since July 1, 1999. She has been a bike officer, Field Training Officer, Patrol Sergeant, Gang Investigator, and Drug Investigator. She was the first female to be promoted to investigations. She was the first female on the Houston County Sheriff Responds Team (SRT). She was inducted into the Columbus State University Athletic Hall of Fame in 2006 for basketball.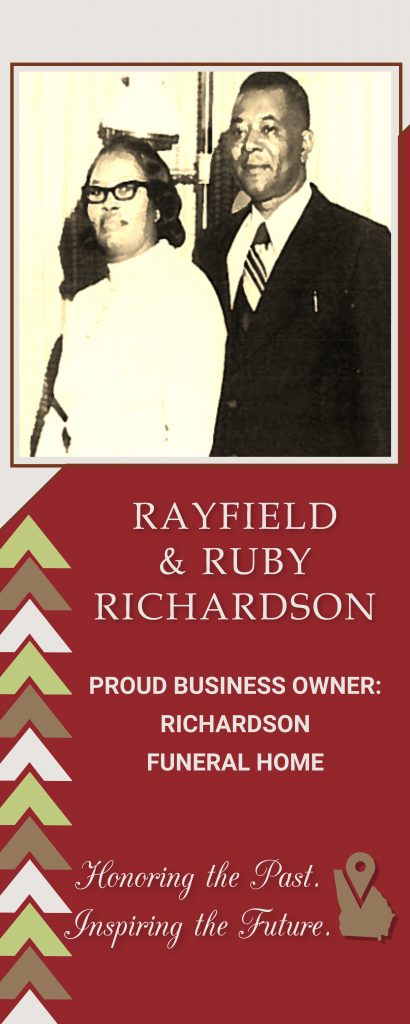 The Richardson Funeral Home in the Old Field Community has been a staple since 1970. Established by Ruby and Rayfield Richardson, they served the community with dignity. Prior to their establishment in Perry, in 1958, they entered into the mortuary industry opening the R.N.T. Funeral Home with partners, Charlie Nelson and Daniel Thomas (the latter partnership was bought out by Tilmon Wilson). In 1985, the partnership of R. N.T. Funeral Home dissolved, and the name was changed to Richardson & Son Funeral Home. Rev. Henry Phillip Golden, was relocated from Savannah, GA in 1954 to pastor the Perry C.M.E Circuits (such as Browns Chapel, Mt. Zion and St. James) all of Perry, GA. Under Rev. Golden's leadership, he rebuilt St. James C.M.E. Church. Today, that same edifice has been renamed the H.P. Golden Fellowship Hall. After making this area his home, Rev. Golden was a self-made businessman and demolished many builds in the Middle Georgia area. He dedicated services in various community areas such a Civil Rights Leader, Bails Bondsman, Community Counselor Spokesperson, provided transportation for the Houston County Health Department, and Voters Registration. There are many other unnamed capacities that Rev. Golden fulfilled and became well respected by church members, community members, businessmen and City Leaders.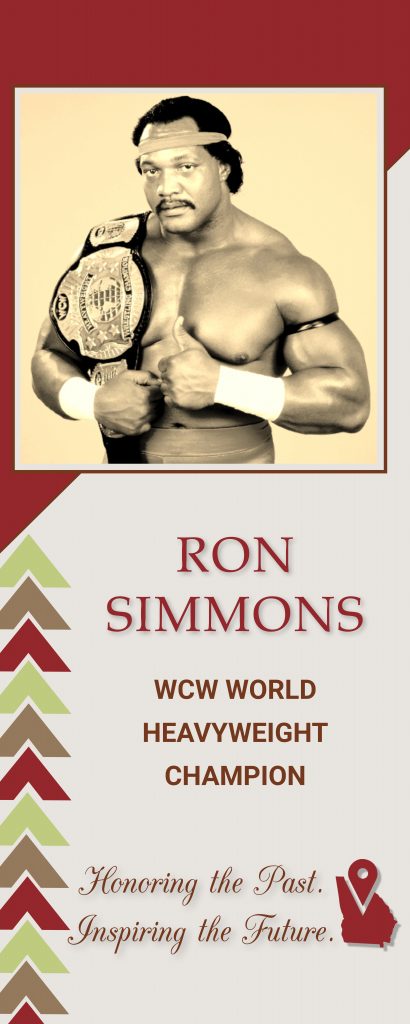 Born in Perry, Georgia, Simmons attended Warner Robins High School, where he played football as a tight end and linebacker. In 1976, he was named lineman of the year, and first team All-State by The Atlanta Journal-Constitution. Prior to becoming a professional wrestler, Simmons was an American college and pro football player who was a defensive tackle in the National Football League (NFL), Canadian Football League (CFL) and United States Football League (USFL) for four seasons during the 1980s. He played college football for Florida State University, and was recognized as an All-American. He played professionally for the NFL's Cleveland Browns, the CFL's Ottawa Rough Riders and the USFL's Tampa Bay Bandits. Ronald Simmons (born May 15, 1958) is an American retired professional wrestler and football player. He performed for World Championship Wrestling (WCW) and Extreme Championship Wrestling (ECW) under his real name, and in the World Wrestling Federation / World Wrestling Entertainment (WWF/E) under both his real name and the ring names Faarooq Asaad (sometimes spelled Asad) and Faarooq (sometimes spelled Farooq). He is signed with WWE, working in their Legends program. In WCW, Simmons was a one-time WCW World Heavyweight Champion; as the first African American to win the title, he is recognized by WWE as the first black world champion in professional wrestling history. Pastor Ronrica Gordon is native of Americus, GA. He graduated from Fort Valley State University. He is a certified educator. He is a pastor of Oldfield Missionary Baptist Church of Perry.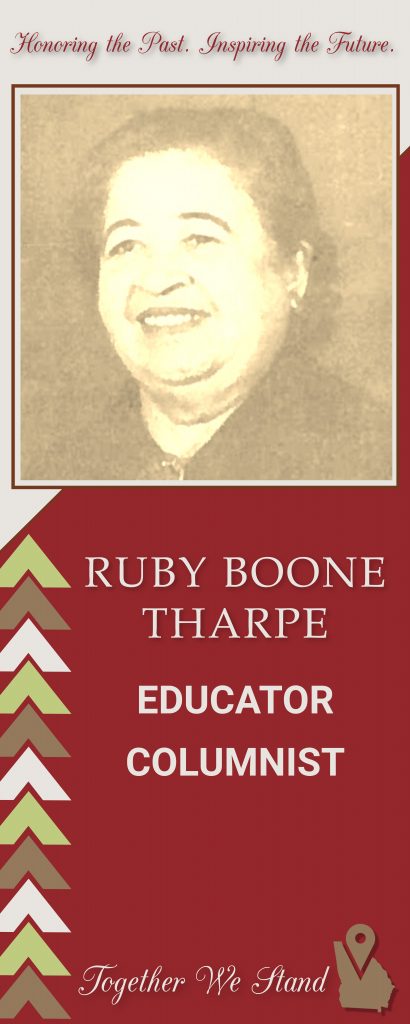 An educator to the children of Houston County, serving 40 years to the cause before retiring in June 1970. She was also a licensed embalmer. As a community columnist for the Houston Home Journal, she provided important links to old and new Perry in her weekly columns. She chronicled the happenings of the black communities and gave her special inspiration and advice to her faithful readers. She listed "personals" the travels of families to and fro visiting, death notices, happenings in the community, churches, etc. Rev. Dr. Rutha Jackson, married to the late Clarence Jackson, is a native of Houston County. Her roots began in Perry, Georgia along with the start of her education from grade school to high school, Houston County Training School. She was one of the students that integrated Perry High School. From then, she made a concerted effort to march in the state of Georgia against racism. She served 33 years in the Air Force Reserve, retired Senior Master Sergeant and a Houston County Middle School Teacher, 25.5 years. She served as the President of Houston County Branch NAACP from 2014-2020. She lives by the beliefe that to be a valued activist, one must serve with commitment, determination, and truth to propel forward the next generation of "Activists".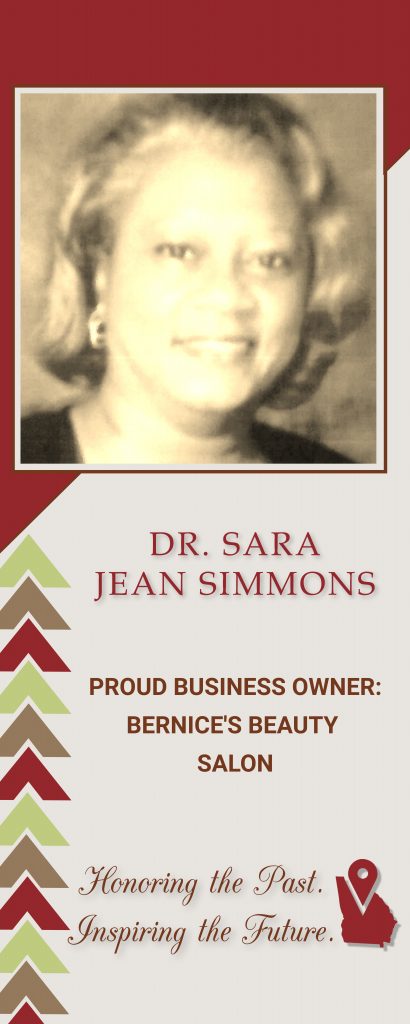 Dr. Simmons, a native of Union Springs, Alabama, has been a resident of Perry (by way of Boston, Massachusetts) for 48 years. Here in the community that she calls home she has been the owner of Bernice's Beauty Shop for over 43 years. Dr. Simmons' independent and entrepreneurial spirit has served as an inspiration for several generations of young women locally, regionally, and nationally. As a businesswoman, Dr. Simmons has always tried to use the talents that have been gifted to her by God to help people from all walks of life reflect their inner beauty and joy onto their outward appearance. A woman of compassion, integrity, and strength, Dr. Simmons is the embodiment of the intestinal fortitude seen in successful businesswomen the world over.
Sarah L. Nottingham became a member of the City of Perry, May 2008. She has applied her knowledge and skills in various roles throughout the city (The Department of Finance, Department of Public Works and presently Department of Community Development-Stormwater Management Division).
She obtained her certifications from University of Georgia Carl Vinson Institute of Government- Local Government in Finance Officer Level I and Level II and the American Public Works Association Advance Certification of Public Works Management. The Georgia Soil and Water Conservation Commission (GSWCC) - Level 1B Certified Stormwater Inspector, Erosion and Sediment Control (Red Card), MS4 Compliance & Enforcement Certified Inspector and MS4 Green Infrastructure Technician.
Her dedication is focus on the City of Perry's Georgia Environment Protection Division, two Stormwater Management Programs, (the Stormwater's Municipal Separate Storm Sewer System (MS4) and Industrial permits). She ensures that all stormwater activities are compliance and regulations are current.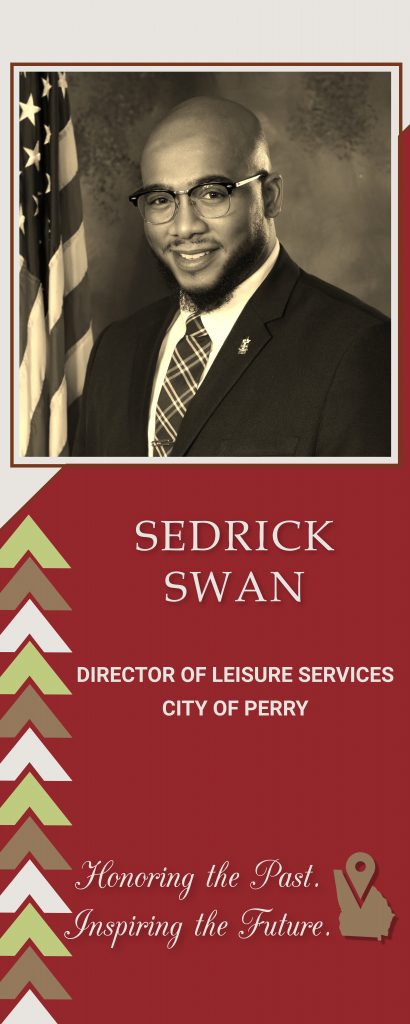 Mr. Swan is a proud graduate of Perry High School, class of 2002. Mr. Swan's participation in PHS varsity soccer led to collegiate scholarships. Swan served as the Captain of Georgia Southwestern State University's first collegiate soccer team. Swan is honored and excited to utilize his previous experiences in Recreation administration to serve his hometown. Teresa Duncan is a proud business owner of her Mobile Bartending business for 5 years. Teresa also is a proud member of the Order of Eastern Star where she has done outstanding work in the community by organizing city street clean ups and providing for the elderly. Also she organized the Stroll to the Poll and Souls to the Polls events, encouraging voters to vote, as well as arranging rallies and marches in 2020.Teresa also is a active member of Hayward Hands where she has helped organized Thanksgiving Dinners and Christmas Toy Drives for the City of Perry. Teresa also is active member of the NAACP Houston County Branch.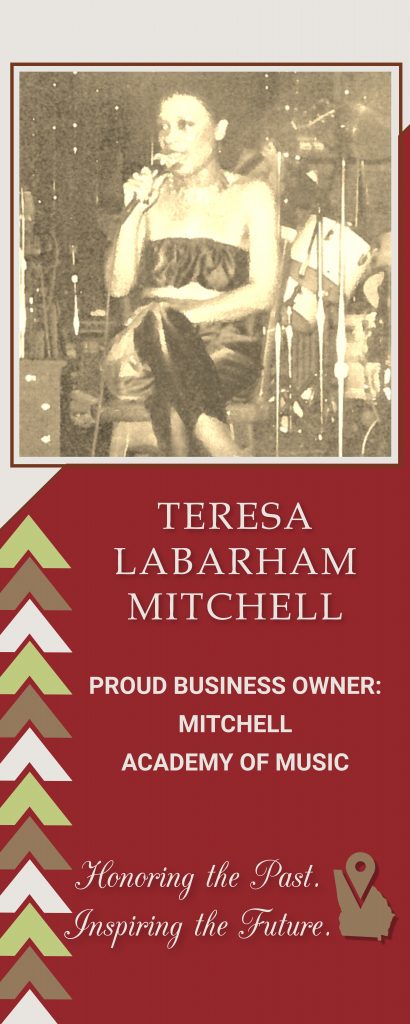 Teresa is a native of Perry but she has lived most of her adult live in Atlanta, where she began her professional career in the entertainment business in the early eighties. Teresa performed and managed one of Atlanta's premier female singing groups "Queens Connection" for six years. Later, Teresa traveled nationally and abroad with artists such as Blues Legend Johnnie Taylor, Jazz artist Jean Carne and Motown artists Eddie Kendricks and Dennis Edwards, former members of Temptation. Teresa's musical endeavors started at an early age. As a young child she was required to study piano. After high school, she attended Hampton University on a Music Scholarship, however, she transferred to Fort Valley State University and earned a bachelor's degree in Business Administration. Teresa has years of studio recording experience along with performing skills. She decided in 2003, along with her husband Mark, to start a Music School in her hometown of Perry. She always had a passion for her community and starting the Mitchells Academy of Music has given her the avenue to work with some extraordinary local talent, developing their talent, producing them to one of the many shows she has produced.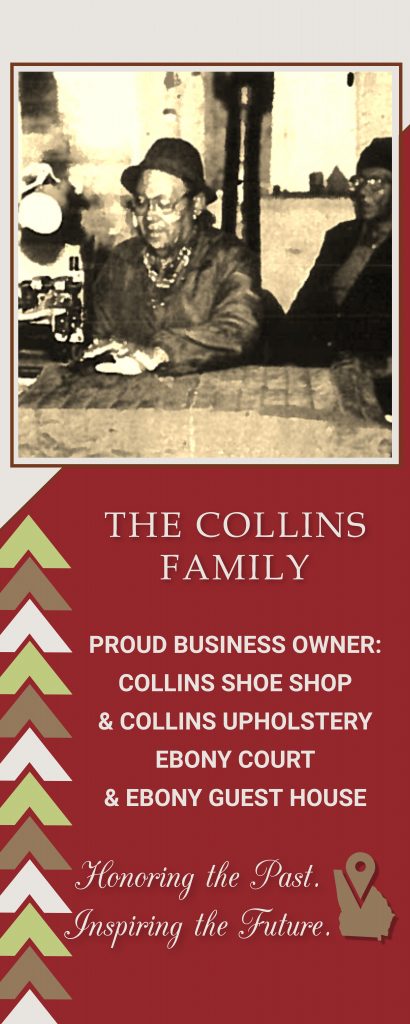 Emmanuel Collins (1842-1912), as a young boy, learned the trade of a boot and shoemaker. At the age of 17, he was making boots for Houston County's confederate soldiers. After the emancipation, Emanuel turned his trade into a private enterprise. He also opened a grocery store and restaurant. Emanuel's son, John W. Collins, continued the business after his death. John instilled the trade to his sons, Russell and Amos. These gentlemen continued the shoe repair legacy and expanded to include upholstery and real estate. This family's trade has lasted throughout generations for over 160 years. Samuel Collins built Ebony Court and Ebony Guest House for black tourists and tenants, later adding a trailer park. Ernest L. Lewis was a black businessman, community leader, cement mason, construction supervisor, and union worker in Mobile, AL. Through his union efforts, he was able to open doors that were often closed to minority workers during the 1960's and 1970's. Being forced into early retirement from construction, he joined the United Steel Workers of America Union, and worked for Continental Can Co. until the Pabst Brewery closed in Perry, GA. He then opened Bradley St. Grocery Store. Mr. Lewis' wife, Flora Mae Lewis, tutored at the store after finishing her degree at Fort Valley State University. She was a founding member of the Georgia Coalition of Black Women.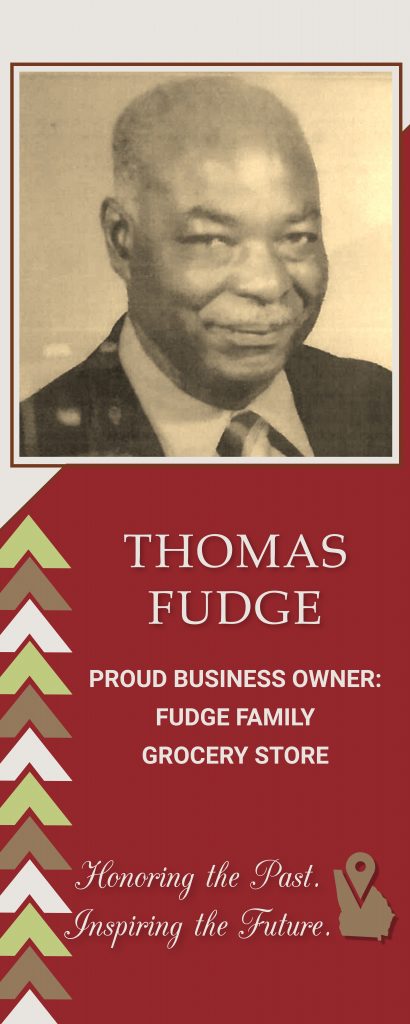 Mr. Fudge was born on August 27, 1903 in Houston County, Georgia. He attended the public schools in Houston County and raised five children together with his wife Mazuria Cherry. Thomas Fudge was the proprietary of the Fudge Family Grocery Store on Ash Street in Perry, GA. He served his community from 1955 through 1986. Many of his neighbors purchased fresh meats and vegetables, bread, dairy products, cold drinks and ice cream. Some of his customers were allowed to shop for groceries and pay at a later date. Mr. Fudge was an important person in his community because he was a Christian man, a family man, and a hard working entrepreneur who enjoyed serving others. Mr. Fudge was a dedicated member at Mt. Olive Baptist Church in Elko and served as Chairman of the Deacon Board for many years until God called him home. Thomas Lassiter is a devoted husband, loving father of 4, and dedicated to service. Currently, Thomas serves as the City of Perry Solid Waste Supervisor with over 20 years of experience in the Environmental Services & Solid Waste Industry and 10+ years in Management and Supervision. He is a resident of the City of Perry.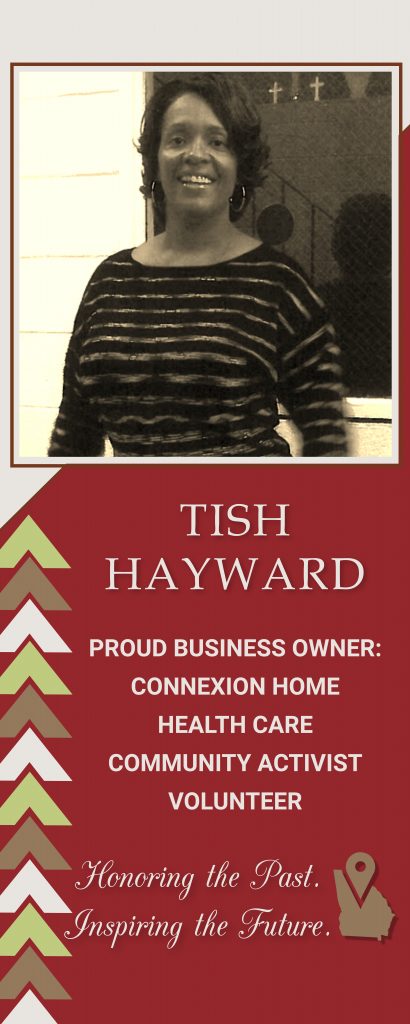 In addition to volunteering for organizations, Tish worked with local city councilmen to brainstorm and improve her local community. She renovated homes for families and helped pregnant women seek proper health and medical care. Kids and Pros, a non-profit organization that teaches fundamental character skills – Tish provided parents and aspiring football players with key advice to navigate the football arena. Professional Football Players Mothers association – participated in local and nationwide events to promote literacy and education. Ronald McDonald Hours – provided meals and clothing for families affected by childhood illnesses and diseases. Tish donated food, clothes and toiletries to the organization. She also gave the women an opportunity to support the community by allowing them to volunteer at Hayward's Hands events. Perry Volunteer Outreach – community service events and projects. Grace Village – a non-profit organization dedicated to helping homeless and battered women.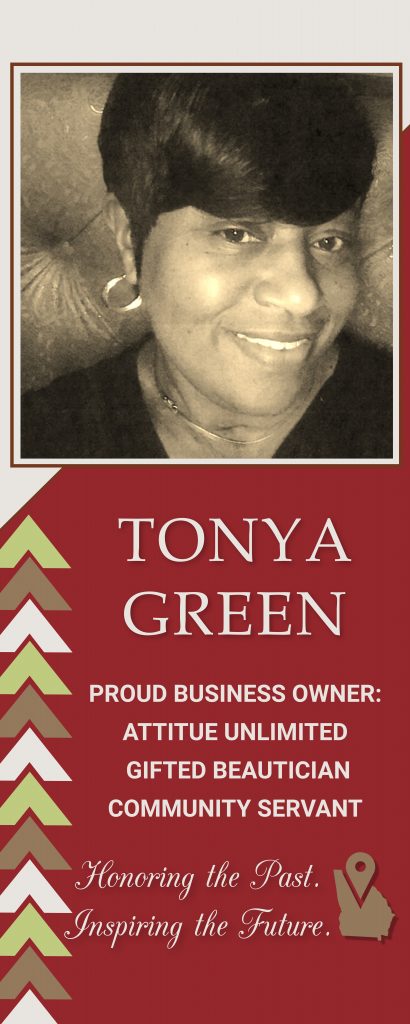 Tonya Green was the founder of Attitudes Unlimited in 1988 on Courtney Hodges Boulevard in Perry. She is a member of the New Hope Baptist Church located in Perry. She's also a member of the Beauty culture league and continues education. She helps with the outreach rebound ministry but with the passion for hair, she ministers to her clients about how good God is. Tonya Green is a two-time cancer survivor. Vera Felder was an activist and volunteer in the Perry community. Vera served as an active member of the Houston County Chapter NAACP. During her tenure, she served at the forefront of the Civil Rights movement in Perry. Vera participated in several momentous protests in Houston County that challenged the non-firing of Blacks in Perry, school segregation, and playing the Confederacy's unofficial national anthem, "Dixie", during Warner Robins High School's football games. She was a softball coach for the Perry Recreation Department for several years and she led them to a championship. Vera has been a member of Mt. Olive Primitive Baptist Church, located in Haynesville, Georgia, for over 50 years. After working for 30 years, she retired from Robins Air Force Base as one of the first black women as a sheet metal mechanic on the F-15s aircraft.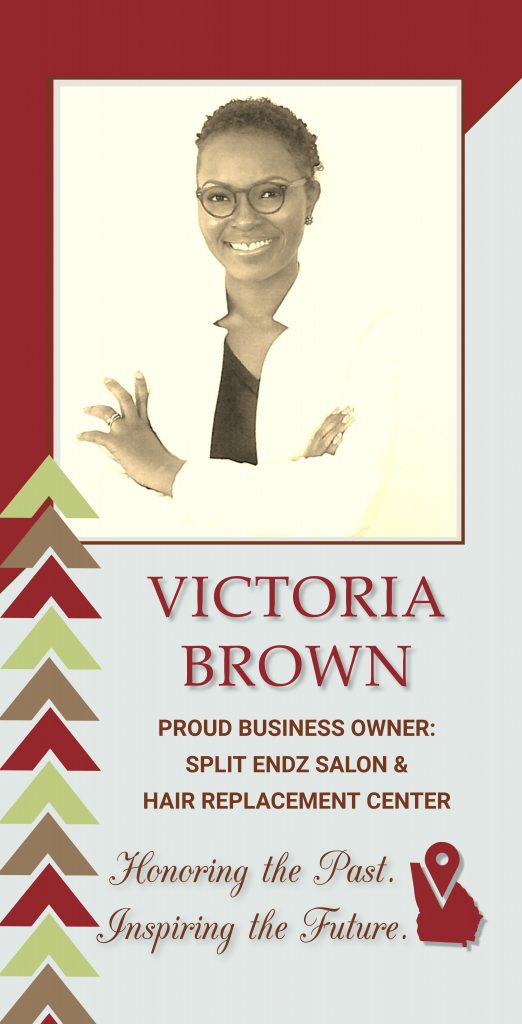 Victoria Brown has always had a passion for cosmetology. As a young girl, she watched her mom fulfill her passion for hair in the kitchen and has been fascinated since.
At the age of 24, Victoria opened Split Endz Salon in Perry. Over the past 13 years, the business has grown and expanded into Split Endz Salon and Hair Replacement Center, LLC. She recently launched her very own line of hair care products, Victoria Nicole Signature Haircare.
Victoria is also a proud community advocate, serving on several boards with the Perry Downtown Merchants Association, the Perry Area Chamber of Commerce and the Perry Facility Board. Mrs. Viola Thornton was a matriarch in the Houston County Perry Community as well as in her own family. Viola was a faithful member of the Oak Level Baptist Church where she served as secretary for many years. She began working as a nurse's assistant in the early 1950's and continued all the way up to the early 1980's. Under the guidance of the late Dr. A.G. Hendrix, she helped care for and helped deliver dozens of babies into the world. She had a kind and loving spirit that made it easy for many to see her as a mother figure and a leader in the community. A portrait of love and kindness, she has been missed and will forever be missed by her family, loved ones, and friends. Wallace Brown attended College at Miami Dade College played Baseball and was Drafted by New York Mets in 1973 as catcher 3rd Baseman. He made as for as Double A and played in Jackson, Mississippi. After this, he started working at City of Hallandale Beach Fl. as Rec. Supervisor for 30 Years. Wallace then came to Perry in 2007 as a Maintenance Supervisor, where he currently serves his community.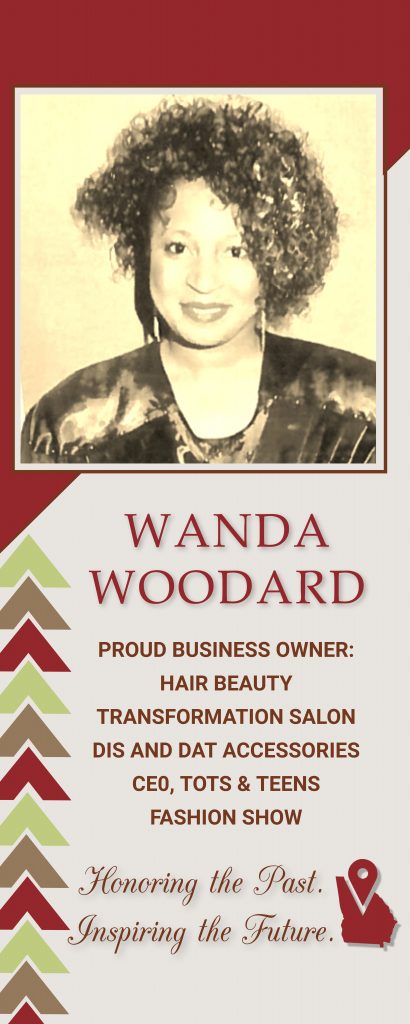 Wanda Woodard has been a licensed cosmetologist for more than 40 years. During that time, she has owned three beauty salons over the course of 35 years and the owner of Dis and Dat Accessories. She also serves as the CEO for the Tots and Teens Fashion Show, featuring models from toddler age through age 16. Wanda is married to her husband, Roy, and together they live in Perry, where they have raised their two children Shuwanda and Javaris.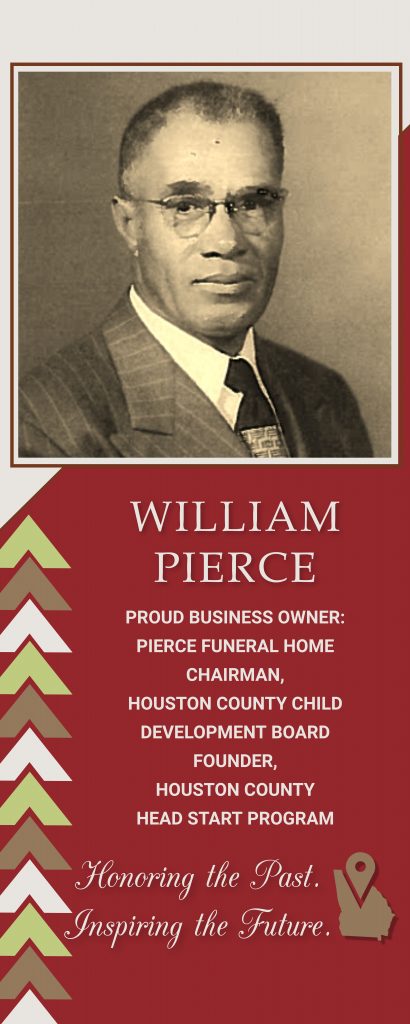 William Mart Pierce was not only a civic leader in the community, but he was also the owner of Pierce Funeral Home established in the early 1940's. Mr. Pierce also served as the emergency transport for the sick, providing transportation to and from Dr. Gallemore's office. He later went into partnership and opened the Pierce & Butts Funeral Home which was in the Old Field Community on Houston Lake Road. William was chairman of the Houston County Child Development, Inc. and spearheaded the Head Start Program. Mr. Pierce was a trustee of the "colored" schools from 1963-1966 and he also was one of the sponsors of the Houston County Day Care Program to aid black low-income families in the community.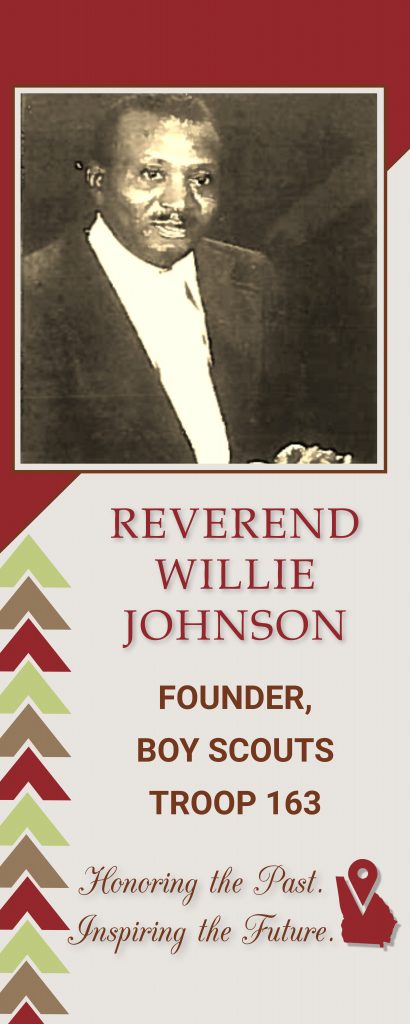 Revered Willie Johnson founded and organized one of the first Boy Scout Troop in Houston County for young black men. In 1951, Mr. Johnson organized Troop Number 163. Many of the boys that joined the troop later when into military service. In the 1960's, Rev. Willie Johnson hosted his own radio program entitled the "The Zenith Mill Hour" and in the 80s and 90's hosted the "Healing and Blessing Hour" on WIBB in Macon, Georgia.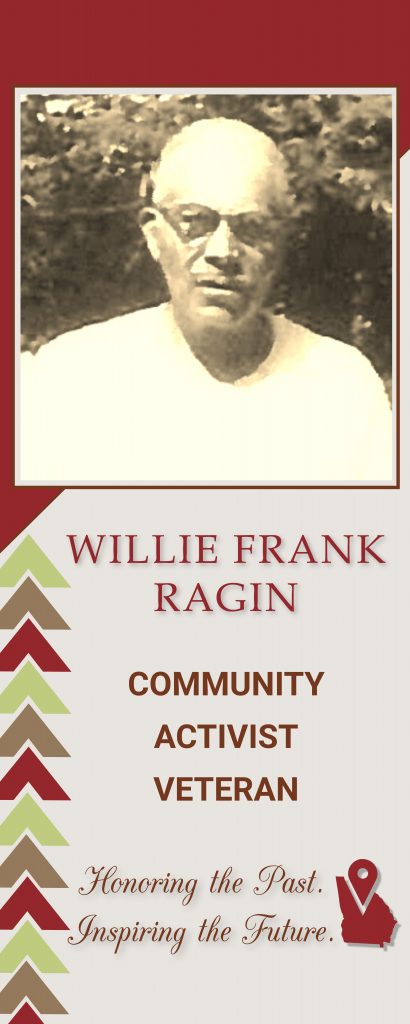 Willie Frank Ragin was a life-long civic leader in the community. Willie Frank helped secure recreational facilities in communities and, through his efforts, bridged a gap between black and white communities. He was president of the Adult Training Union and a leader for many years. Mr. Ragin was a WW1 Veteran, painter, an employee of Robins Air Force Base, the post commander of the Felton-Pennymon Post of the American Legion, a trustee of the "colored" schools from 1961 to 1966 and the treasurer for the Houston County delegates to the State Republican Committee in Atlanta. Mr. Willie Thornton Jr. was born in Houston County in Perry, GA in 1946. Willie grew up in Perry, GA and went to Houston County Training School. Willie joined the US Army, and he spent 3 years in the military. Willie was employed by Pabst Blue Beer Company. After a long career with the Beer Company, he then went to work for the CIty of Perry as a supervisor. Willie wore many hats, he was a brother, father, a friend, and a character that loved to laugh. He worked with the Recreation Department Little League Program as a coach. In his free time, he enjoyed hunting, fishing, and cooking for his family. Mr. Willie J. Simmons was a native of Perry, Georgia. He was well known for his dedication to equality and education. Mr. Simmons, a graduate of the former Houston County High School in Perry, became very active as a teenager in the local Civil Rights Movement. In this capacity, Mr. Simmons risked his life to participate in several activities that ultimately played a role in the racial integration of our country. He joined the local chapter of the American Federation of Labor and Congress of Industrial Organizations labor union, where he fought tirelessly for the rights of working Americans. In his death, Mr. Simmons continued to fight for equality by instructing his widow, Jean, to bury his remains at the Woodlawn Cemetery in Perry, Georgia. This integrated the cemetery so that others would know all people of all backgrounds were welcome to entomb the remains of their loved ones there as well. Yetoria Lumpkin DeShazier is the daughter or the late Anna Mae Duhart Lumpkin and Robert Lumpkin Sr. She is the 10th of 12 children, and she has one son, Trey Jeremy DeShazier. Yetoria is a graduate of Valdosta State University where she received her bachelor's degree in office administration with a minor in Information Processing/Public Relations. Yetoria currently serves on The Main Street Board for the City of Perry. She is currently employed with Houston County and works as a Compliance Officer for the Houston County Probate Court. She is a member of Word in Seasons Ministries, where she serves with the Youth Ministry, the Intercessory Prayer Ministry, and serves as a Minister of the Gospel.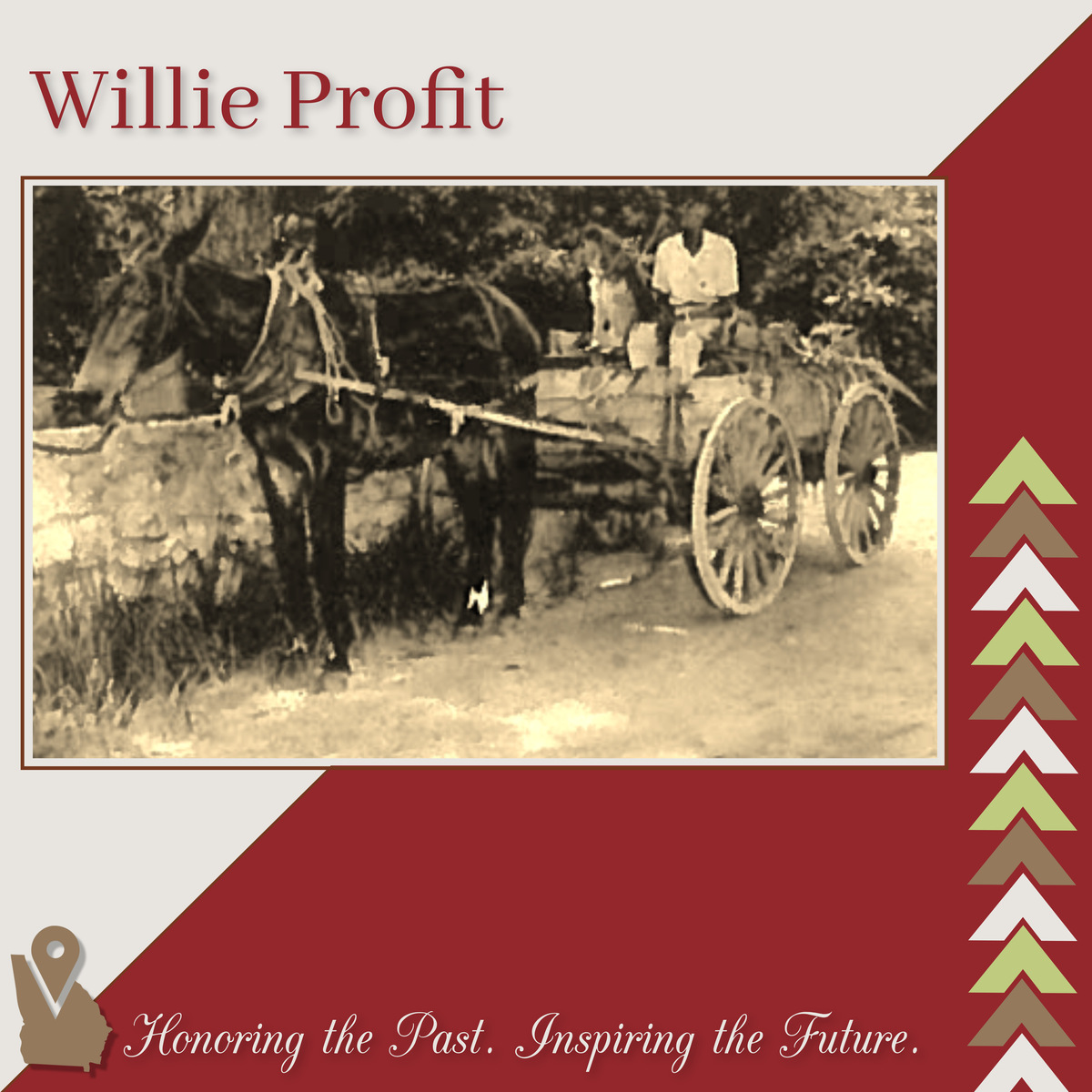 Willie Profit of Perry has been saddling his horse and climbing up on his wagon with his dog for many years and driving slowly downtown. He said that he came to town almost every day, except on Sundays and when it is raining. He pointed out that he still believed that the horse and buggy is probably the safest and best mode of travel as far as he was concerned.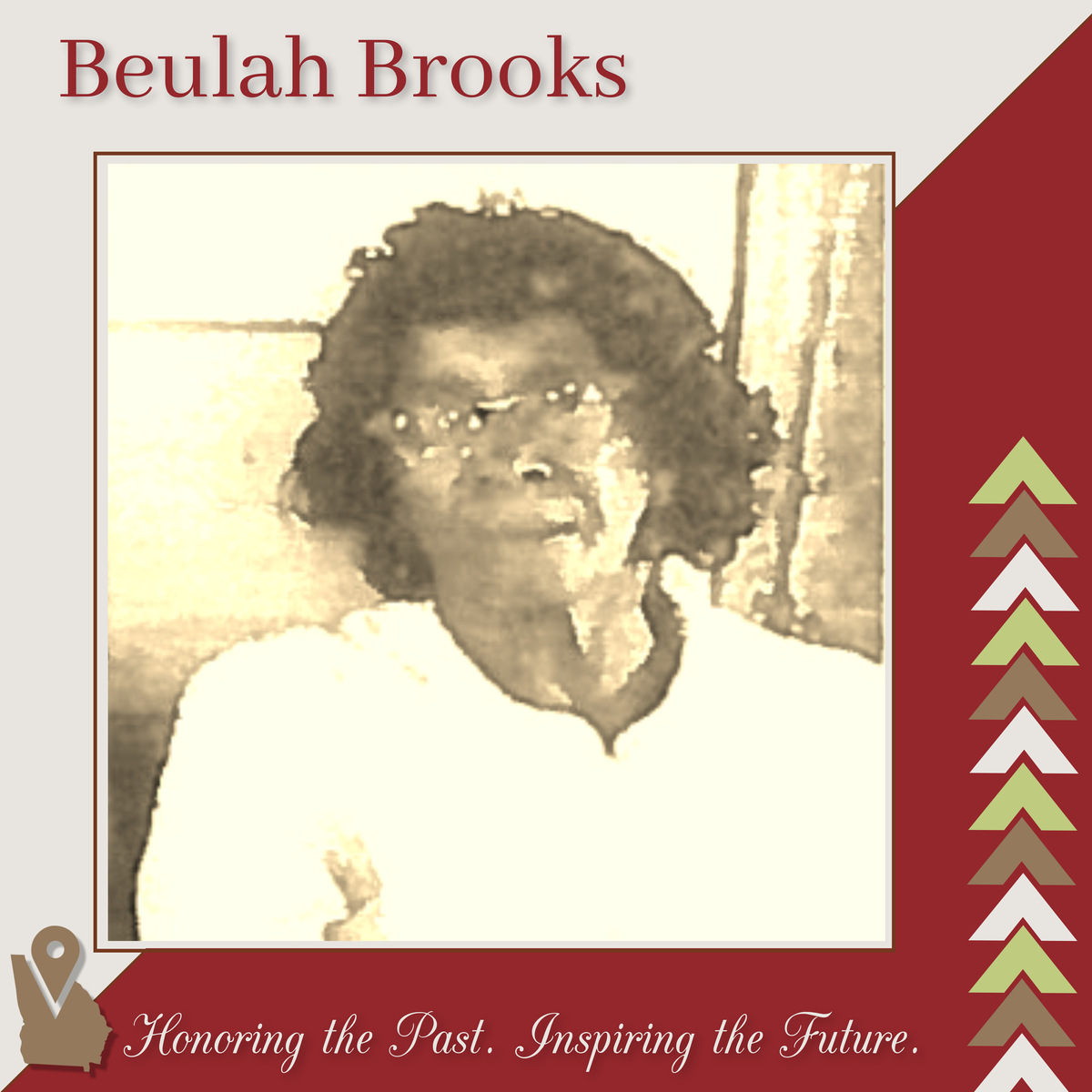 Midwifery is a profession that is at least as old as the Bible. In Exodus 1:15-21, Siphrah and Puah were midwives who refused the Egyptian Pharaoh's order to kill all newborn Hebrew males.
The profession of midwifery in the Black community has a rich history dating back to the days of slavery. In the early 17th century, the slave trade brought some African slaves to America. Among them were women who brought generations of knowledge about childbirth to the American culture. These African slave women, along with aboriginal native women of the land, made momentous contributions to midwifery in the early years of the United States' existence.
In the years following emancipation, Black women who entered the midwifery profession often did so out of a spiritual calling. These midwives became the matriarchs in our communities and proudly handed down the skill from mother to daughter, while keeping strong ties to Aboriginal and African-based rituals and customs.
Mrs. Beulah Childs Brooks is a legacy in her own right. She caught and witnessed the first breath of life of hundreds of babies in the Houston County communities over a period of 60 plus years. "Black and white alike, she birthed them all" according to her last living daughter, Ms. Christine Brooks Bivins. "That's a lot of "baby catching".
Mrs. Brooks was born on July 1, 1887 and died May 13, 1988, just weeks shy of her 101st birthday. She was born and reared in Houston County, GA to the parentage of Henry Childs and Alice Murph. She practiced her midwifery skills well into her senior years. Dr. Carl Beard and Dr. Joe Manning of Warner Robins, GA, worked alongside her for many of her later years.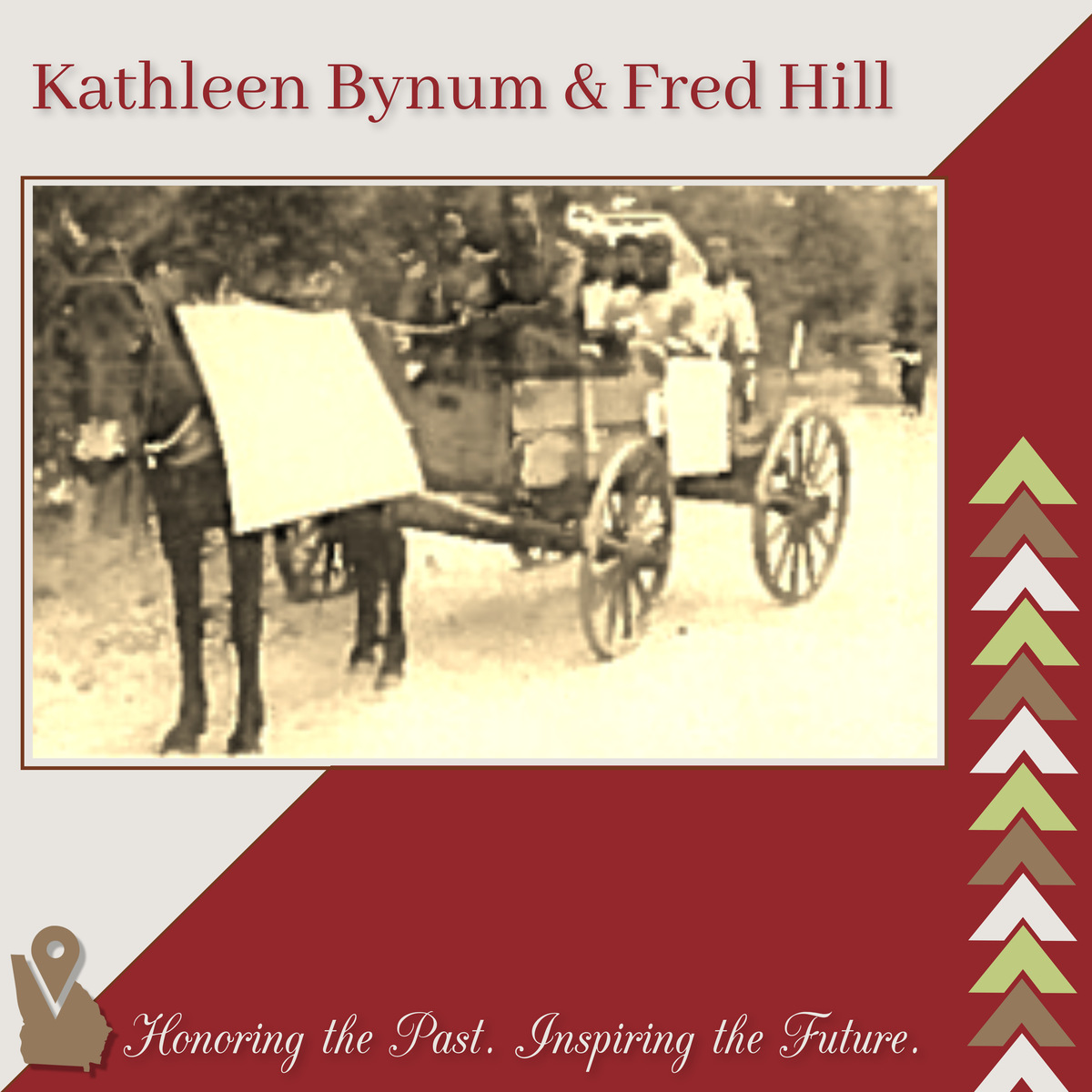 Throughout the 1960's, Mrs. Kathleen Bynum and Fred Hill, with assistants, travelled by mule and wagon through sections of Perry trying to encourage residents to register to vote. The photo pictured here shows them in the Sand Hill section of Perry.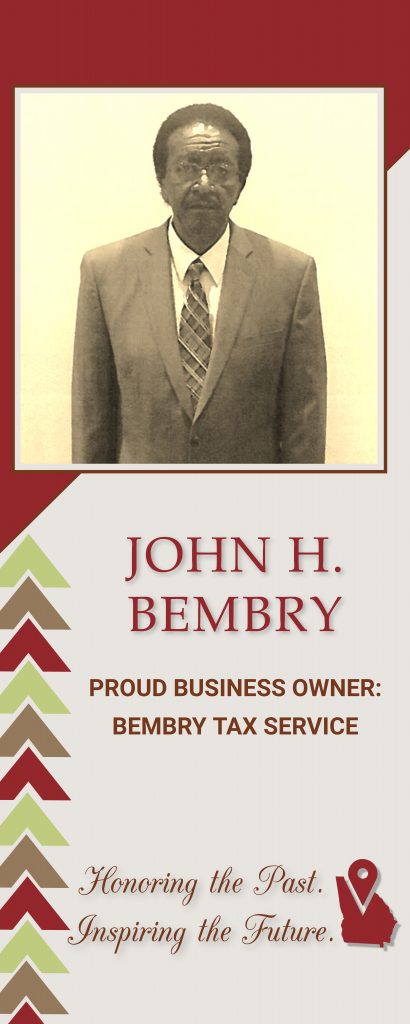 Bembry Tax Service began in 1976. a substitute teacher at Pulaski Middle School when my Aunt Effie Odom asked me to complete her income tax. I responded that I knew nothing about completing or filing income tax forms. Aunt Effie replied "I believe you can do it; you are good in math. You should try it". I agreed to try. Little did I know that I would begin a business that would last many years. I was born in Hawkinsville, Georgia, the son of a teacher and carpenter. I served 33 years in education as a teacher, principal, assistant superintendent and superintendent of schools. I have degrees (B.A. Mathematics, Mercer University) Masters and Corotate in Educational Administration Degrees from the University of Georgia. I worked out of my home for several years before moving my office to Houston Lake Drive in Perry in 2016.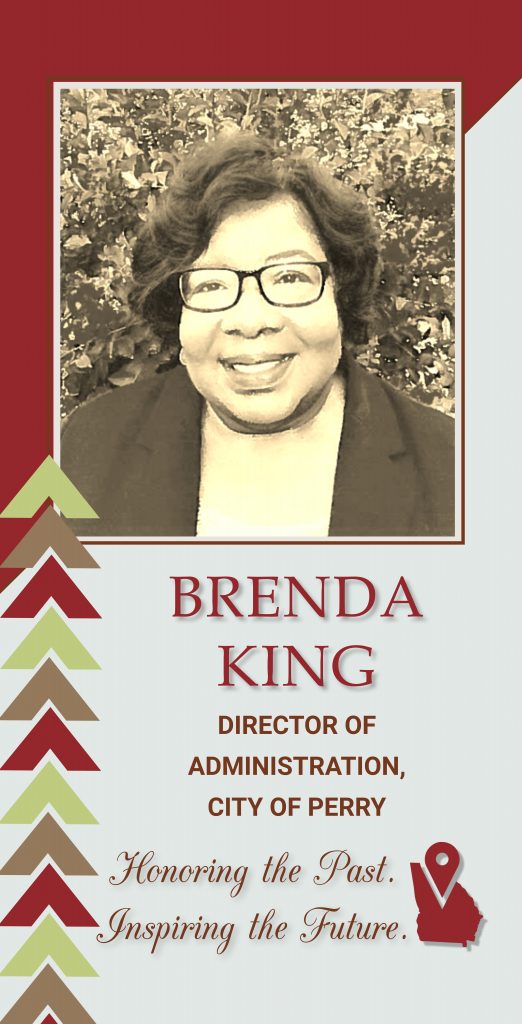 Brenda King has been employed with the City of Perry for 35 years and has served as the Director of Administration for the past 16 years. A Fort Valley State Alumni, Brenda was the first African American woman Department Head for the City of Perry. Under her leadership, the Perry Finance Department has been recognized annually by the National Government Financial Officers Association for its excellence in financial reporting achievement. This recognition is only given to agencies that demonstrate sound and comprehensive financial reporting. To be recognized every year under her leadership illustrates Ms. King's effective financial expertise, dedication and foresight to lead a team of dynamic professionals. She is an active member of Sigma Gamma Rho Sorority, Incorporated, Crossroads Civitan and the Fort Valley State National Alumni Association. She attends the Green Grove Baptist Church.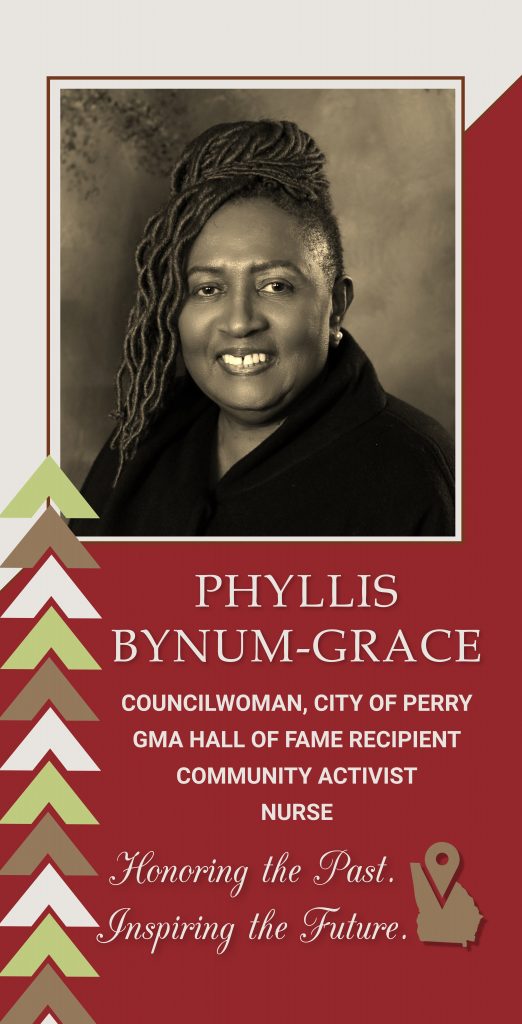 Mrs. Bynum-Grace has served as a City Council Member for nearly 25 years for Post 1, District 1. During this time, she has conceived and fostered the installation of four neighborhoods in predominately minority populated neighborhoods lacking park space, insisted that city staff meet with residents on-site to resolve communication and correct misunderstandings, and established effective communication processes between police departments and minority neighborhoods, resulting in the end of hostility towards police and a significant increase in information resulting in a decrease in overall crime rate. In 2002 she served as Mayor Pro Tem. Mrs. Bynum-Grace spearheaded the development of Legacy Park, a tribute to Perry's veterans of past and present. Mrs. Bynum-Grace was a school nurse with the Houston County School System, a member of the School Nursing Association, a board member of Kid's Journey, Safe Kids of Houston County, and the director of Camp Can Do, a summer camp for children with disabilities. A servant of the community, she actively participates in community wide clean up events and collection drives for food, clothing and housewares for residents in need.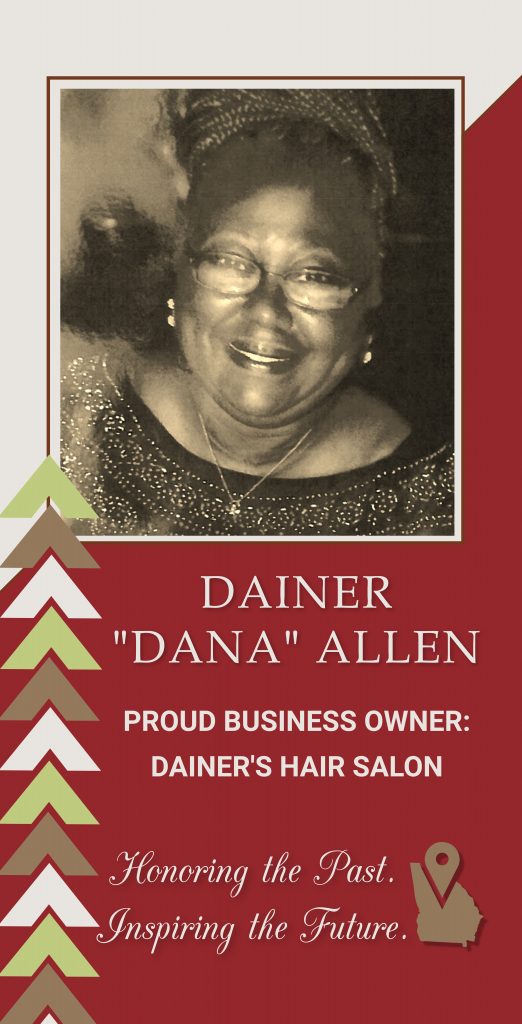 Dainer "Dana" Allen is the proud owner, operator and stylist of Dainer's Hair Salon on Carroll Street. Established in 1996, the business is celebrating its 25th anniversary this year. A graduate of Perry High School Class and a graduate of the Macon Area Vo-Tech with a Master of Cosmetology License. Dana has also worked as a School Bus Driver with HCBE since 2001. Married to her high school sweetheart, Edwin Allen Sr., they have two grown sons and 6 grandchildren.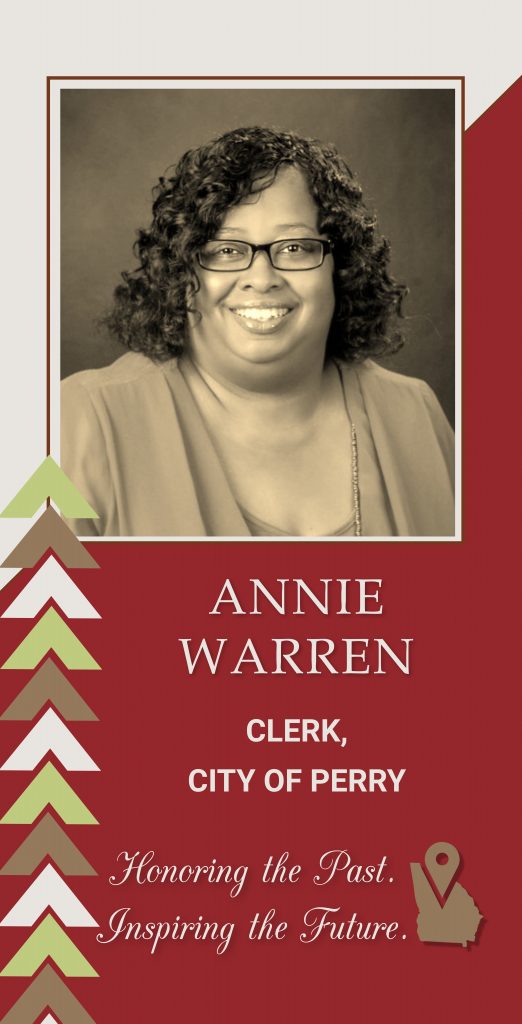 Annie Warren currently serves as Perry's first black City Clerk, where she maintains campaign filings of elected officials including campaign contribution forms, financial disclosure forms, etc. She assists with agenda preparation, maintains all appointments to City boards, provides administrative support, and maintains financial reports of the Mayor and City Council. She was hired in 2007 as Secretary to the Mayor and Administrative Assistant to the City Manager and was promoted to City Clerk in 2015.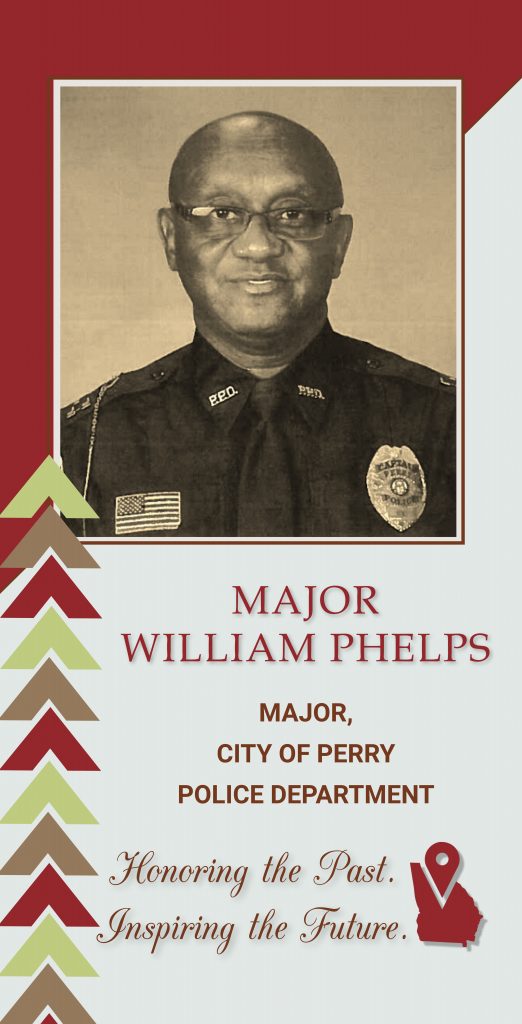 Major William "Bill" Phelps has been a member of the City of Perry Police Department since March 29, 1989. He started his career as a Patrol Officer and held many titles during his career. In 1995, he was the first black person to be promoted to the rank of Captain at the Perry Police Department. During the absence of a Chief of Police from August, 1996 through May, 1997 and from June, 2012 through March 2013, Captain Phelps was appointed to serve as the Acting Police Chief to oversee the department until a Police Chief could be selected. He has also served as the Criminal Investigation Division Commander and the Patrol Division Commander. He achieved another milestone in 2016 as being the first black person to be promoted to the rank of Major with the City of Perry.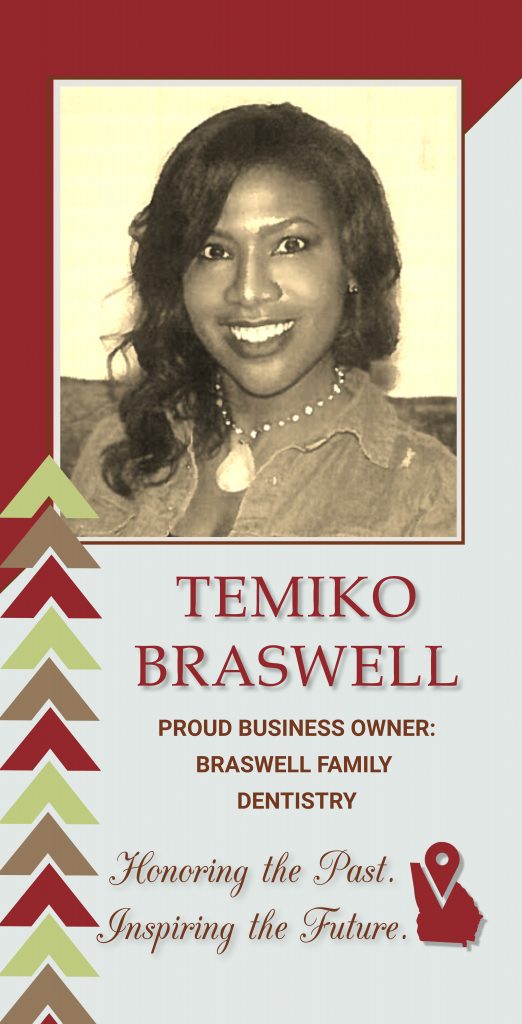 Braswell Family Dentistry has been in Perry for over 17 years. From day one, they made a commitment to serve the community. Their presence in serving the community is evident with a commitment in providing dental care to the underserved youth of Perry. They are one of the few dental offices in Perry that choose to provide this service. They have supported the Perry community by participating in health fairs, sponsoring Back to School Drives, provided mentorship for aspiring dentists and hosted high school students that are interested in the dental field. They have also partnered with Central Georgia Technical College to help train future dental hygienists and assistants.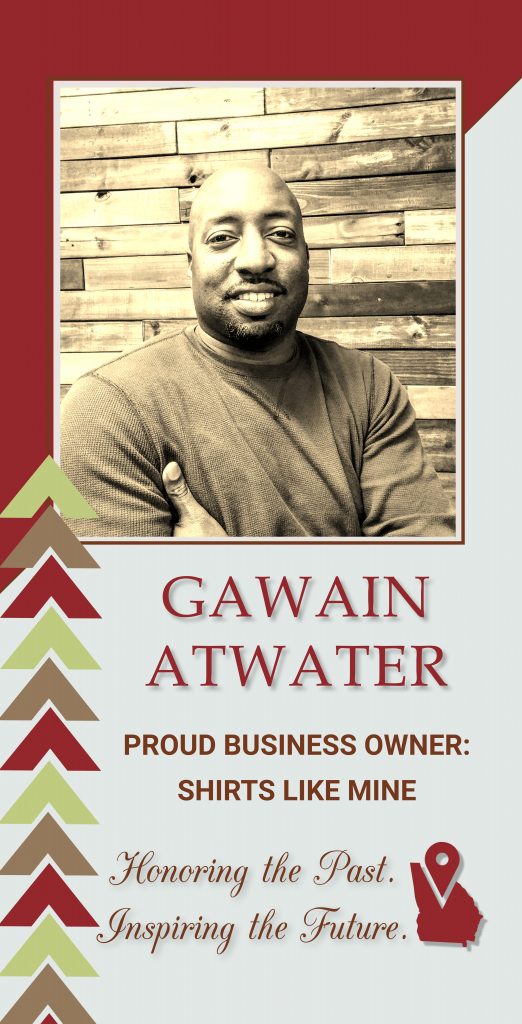 Gawain Atwater is a fearless graphic designer and screen printer. A proud Perry panther, Gawain is the first African American to own and operate a T-shirt printing company in Perry. Launching Shirts Like Mine (SLiM) in 2010 out of his mother's garage, Gawain knows the meaning of determination, patience and perseverance. That is why part of his undertaking as a minority small business owner is to share his knowledge of graphic design and screen printing with peers I the industry and investing in the growth and development of family, friends and former staff. Having navigated the system of custom merchandising for the past 10 years, it is Shirts Like Mine's mission to leave a positive and green impact on the environment by using eco-friendly products while simultaneously offering that Perry Proud customer service to all that utilize SLiM's services.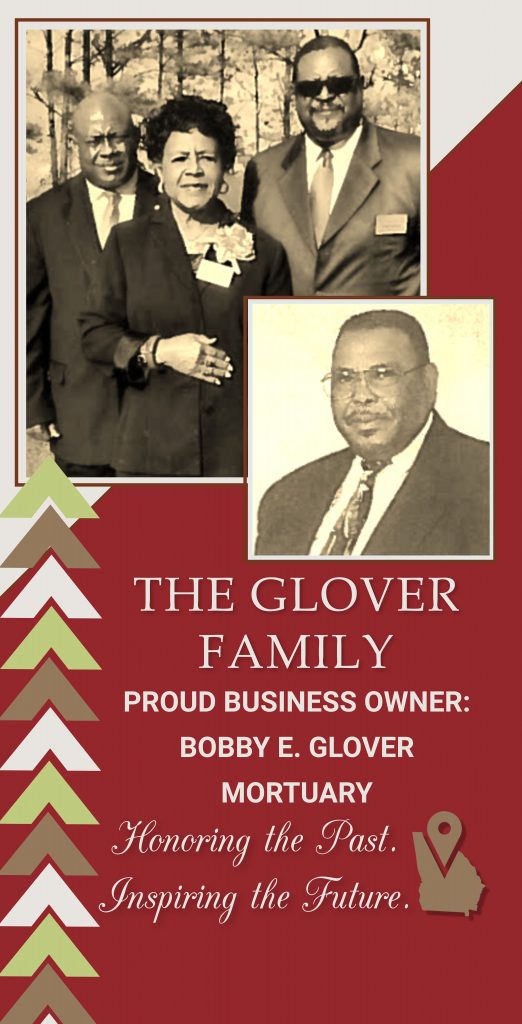 Bobby E. Glover Mortuary was founded in 1971. In addition to operating a business, Bobby Glover also served as a Councilman with the City of Perry. His wife, Lossie Glover, co-founded the business with him and was also an educator in the Houston County School system for over 30 years.
Their eldest son, Vincent E. Glover, Sr. holds degrees from Central Texas College and Ogeechee Technical College in Funeral Service Education. Vincent is an active member of the Union Grove Missionary Baptist Church.
His younger brother, Eric Glover, graduated from S.D. Bishop State Jr. College in Mobile, Alabama with a degree in Mortuary Science. He is also a Licensed Funeral Director and Embalmer. He attends New Hope Baptist Church in Perry.
To this day Lossie and her sons continue the family business, located on Creekwood Drive in Perry, and together they carry out the family legacy, catering to the communities of Houston County.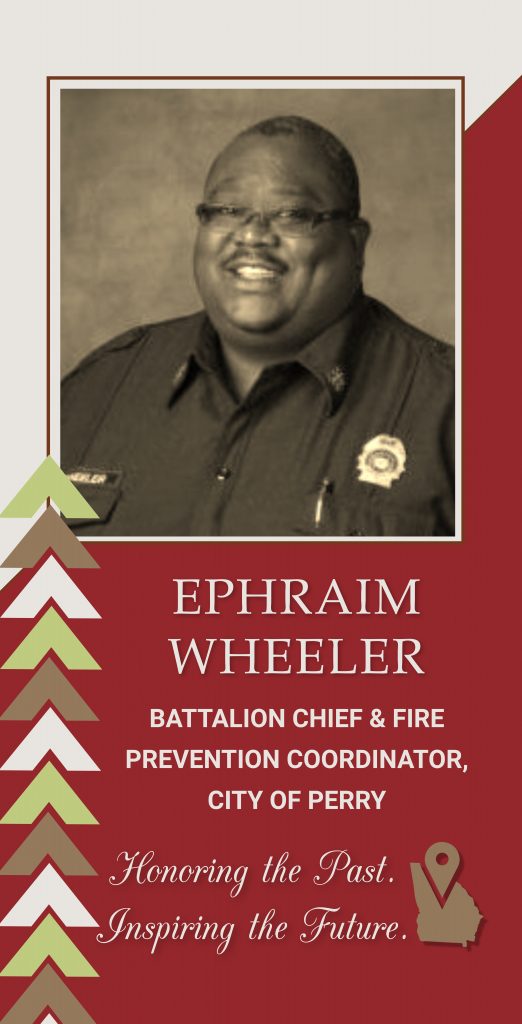 Ephraim Wheeler began his career as a Firefighter through volunteer service from 1995 to 1999, when he with became employed with the City of Perry Fire Department. In 2007, Ephraim was the first African American to be promoted to Sergeant and the first to be promoted to Lieutenant in 2008. He achieved another milestone in 2014 as being the first African American to be promoted to the rank of Battalion Chief & Fire Prevention Coordinator with the City of Perry.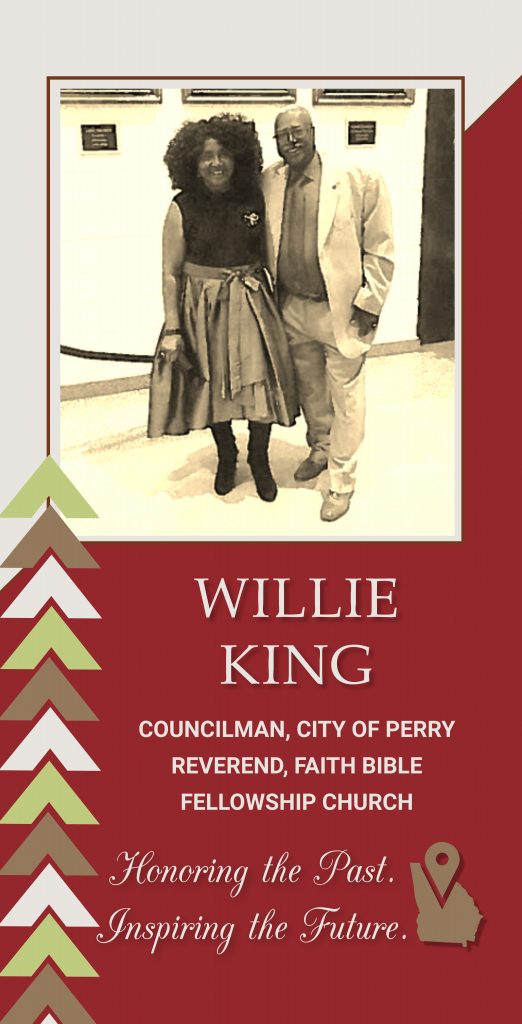 Willie King became inspired by a deacon from his church, Arthur Felder to come to work with him in the Millers' Barber Shop located on W.F. Reagan Drive. He learned apprenticeship under Brother Felder and began cutting hair part time in the year of 1982 and cut with him up until the year of 1992. His wife attended the Beauty School of America in Warner Robins, studying cosmetology and the Macon Technical School studying floral design and the building became to small for them on Commerce Street. From that, they ventured on to find a new location. They found a potential building in the year of 1992 on Carroll Street, Downtown Perry. They named the business "King Hair and Nail Salon". They stayed in business on Carroll Street from 1992 to 1998. They started Faith Bible Fellowship Church in the year of 1988 and in 1994 experienced a flood in the city and our church was condemned and we moved to Pastor Clowers' church on Marshallville Road, stayed there for two years and began to build our new church in 1996. Their church is now located on 517 Martin Luther King, Jr. Drive, Perry, GA.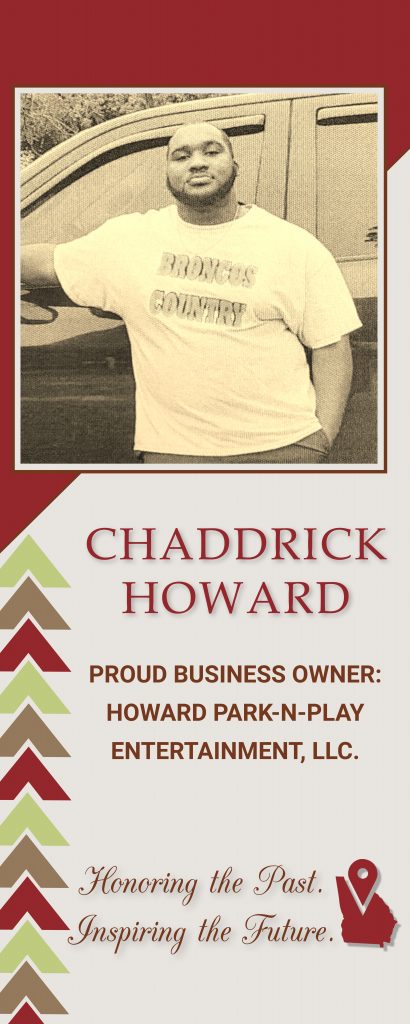 Chaddrick Howard is the owner of Howard Park-N-Play Entertainment, LLC where he specializes in safe family fun! Chaddrick has an array of inflatables, bounce houses and a mobile game truck. Howard Park-N-Play Entertainment makes your event an exciting, stress-free success. Their amazing entertainment options along with catering options deliver excitement to your doorstep. Each Howard Entertainment party is an experience you can depend on and you guests will never forget.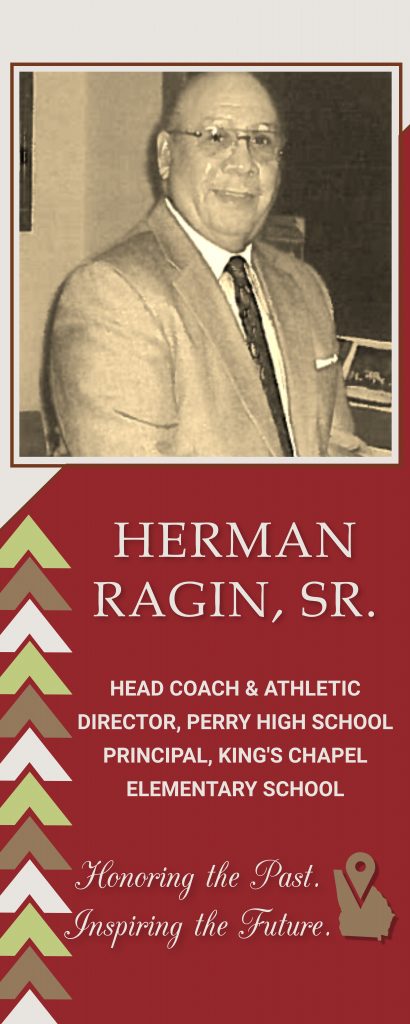 Mr. Ragin taught science and coached at the high school level from 1953 through 1964, becoming the first black head coach and athletic director in Houston County. In 1964, Ragin became the first principal at King's Chapel Elementary and remained there until his retirement in 1980. He taught the values he believes in – self-reliance, self-improvement, devotion, drive, discipline, temperance, hard work, thrift and personal responsibility. He taught that these values are established through education – the pathway that drives his basic optimism about life – and a faith in free will and individual confidence.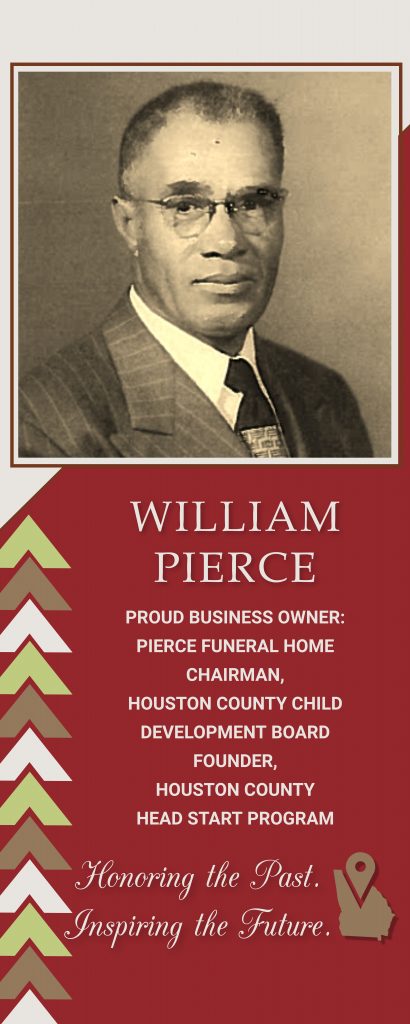 William Mart Pierce was not only a civic leader in the community, but he was also the owner of Pierce Funeral Home established in the early 1940's. Mr. Pierce also served as the emergency transport for the sick, providing transportation to and from Dr. Gallemore's office. He later went into partnership and opened the Pierce & Butts Funeral Home which was in the Old Field Community on Houston Lake Road. William was chairman of the Houston County Child Development, Inc. and spearheaded the Head Start Program. Mr. Pierce was a trustee of the "colored" schools from 1963-1966 and he also was one of the sponsors of the Houston County Day Care Program to aid black low-income families in the community.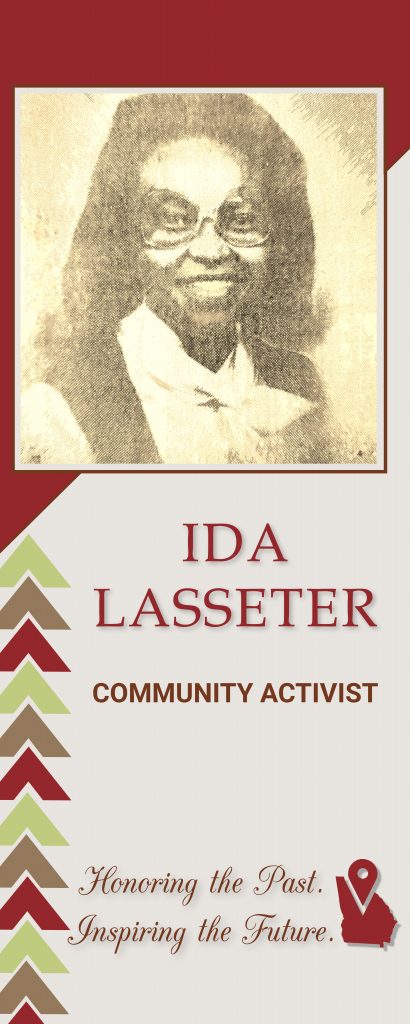 Ms. Lasseter was a prominent community leader. She was secretary and treasurer of the Adult Training Union, a trustee of the Houston Recreation Committee. This committee named a street in her honor at Creekwood Park, "Ida Lasseter Circle". She was co-chairman of "Christmas in Vietnam", a mission responsible for preparing care packages for the troops serving overseas. Ms. Lasseter was also a member of the National Education Association of Educators, as well as Treasurer of the Perry Better Housing Committee, a member of the Houston Planning and Zoning Board and the Coalition of Women. She was also a crusader for the Perry American Cancer Society, United Givers Fund and a United Way Director. Ms. Lasseter served as vice-president of the Houston County Citizens Action Movement and county chairman for the Cystic Fibrosis Foundation. She was also an employee of the Agriculture Extension Service of the University of Georgia and a home economist for the Fort Valley State College Extension Service. She went on to be a founder of the Perry Women's Society.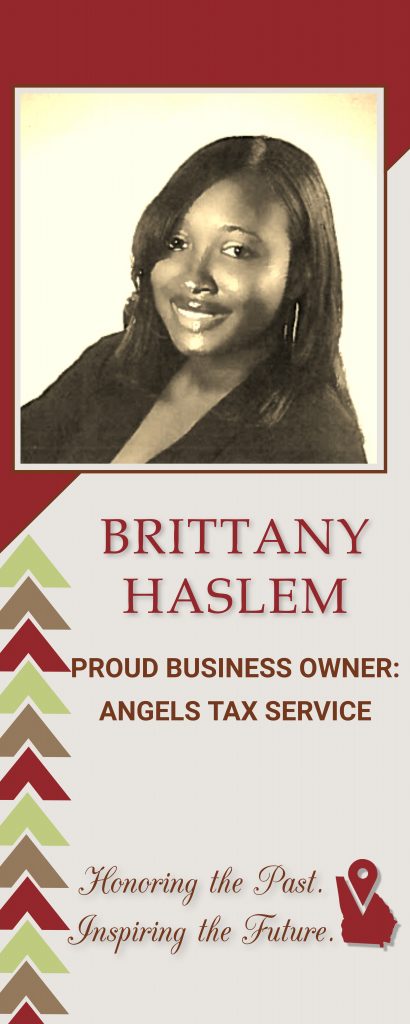 Angels Tax Service is a small woman-owned private business in Perry. Brittany Haslem established her company in 2014 as an avenue to help small to higher income families properly prepare their tax returns and maximize their refunds. Instead of focusing on area summary, Brittany and her team of professionals focus on each individual taxpayer and small business and utilizes each tax law to maximize all credits. In addition to tax preparation, the company assists with financial planning, document preparations such as applications and FASFAs, and other financial areas customized to each of their clients. When choosing to be an Angels Tax Service client, you are just choosing a business, you're choosing to be family.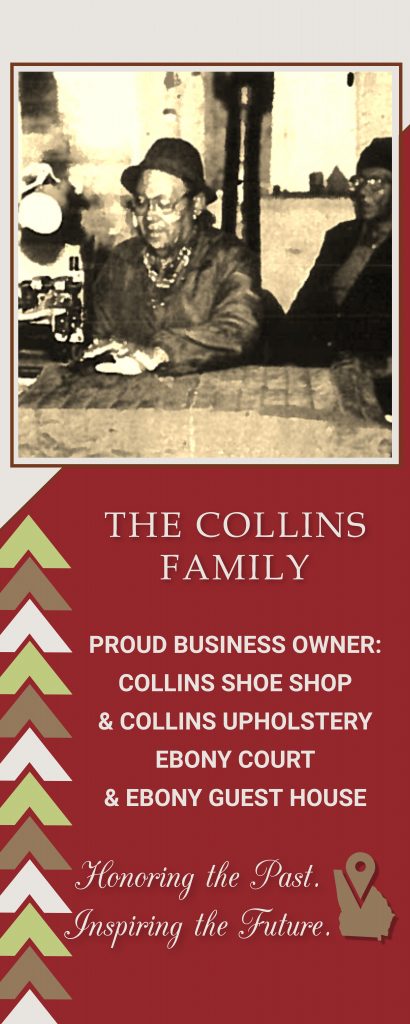 Emmanuel Collins (1842-1912), as a young boy, learned the trade of a booth and shoemaker. At the age of 17, he was making boots for Houston County's confederate soldiers. After emancipation, Emanuel turned his trade into a private enterprise. He also opened a grocery store and restaurant. Emanuel's son, John W. Collins, continued the business after his death. John instilled the trade to his sons, Russell and Amos. These gentlemen continued the shoe repair legacy and expanded to include upholstery and real estate. This family's trade has lasted throughout generations for over 160 years. Samuel Collins built Ebony Court and Ebony Guest House for black tourists and tenants, later adding a trailer park.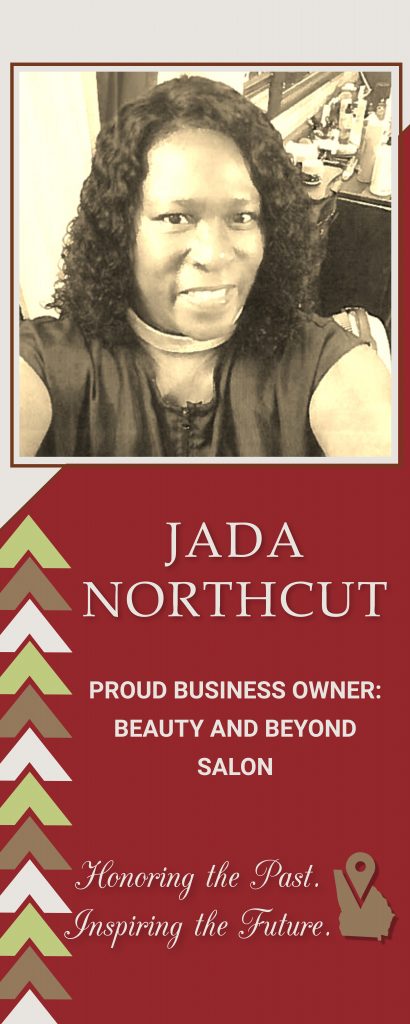 Jada H. Northcut is the black business owner of Beauty and Beyond Salon, established in 1987 in Perry. She started working with hair at the age of 9. Hair has always been a passion for her and she had a passion for being in the medical field. She also works at All Care Home Health. She definitely has fulfilled her dreams.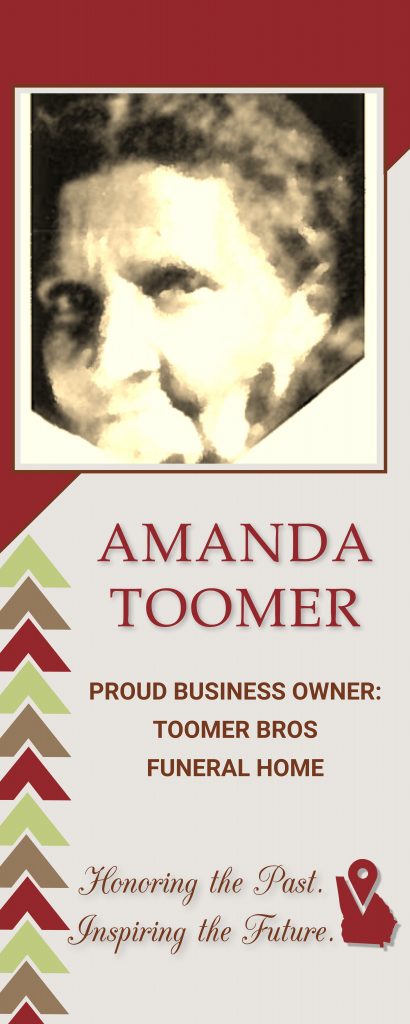 Ms. Amanda Toomer purchased property on Carroll Street in 1905 and was the first black person to open a grocery store and pharmacy. She also purchased stock in the Georgia Southern Railroad and several acres of land. Under the business name of Toomer Brothers, two of her sons, Fred and Henry, opened a Grist Mill and a Sawmill business and made lumber and shingles. By 1915, she established the Toomer Brothers Mortuary. It was one of Perry's oldest mortuary establishments and is listed on the historical registry. During the days of Toomer's business, the bodies of the deceased would be displayed in the windows.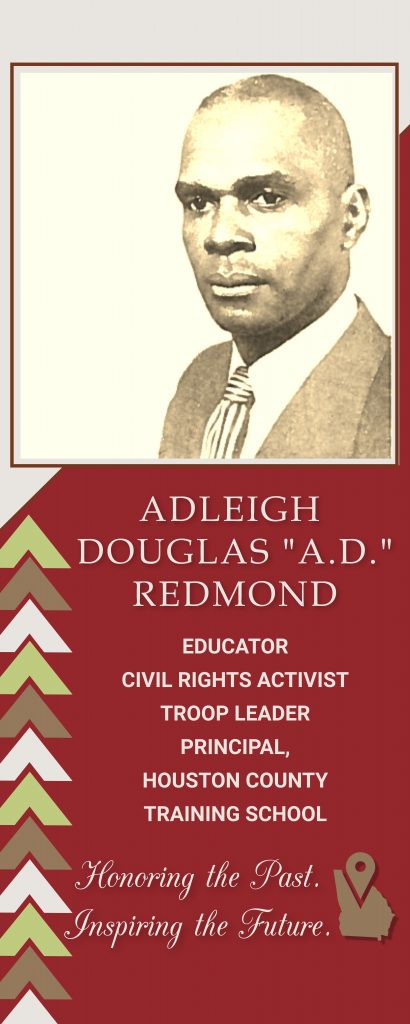 He spent many years as an educator at the Perry Houston County Training School. During his 25 year tenure he set high expectations for teachers and students, although facilities, supplies – and even teachers – were sometimes hard to obtain. He inspired his students to dress for success and have confidence in their abilities. Mr. Redmond supported involvement in extracurricular activities and coach the high school basketball team. Mr. Redmond worked with the Board of Education to establish the twelfth grade at the Training School from which the first class of seniors graduated in 1951. Mr. Redmond was a scout leader for Boy Scout Troop #97.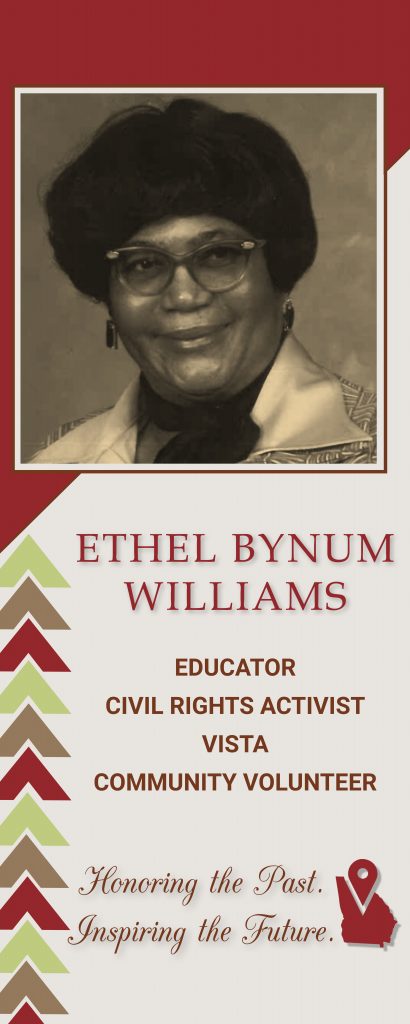 Ethel Bynum Williams was founder and director of the Houston County Development Center. She believed education was the key used to level the playing field of racial disparity. The center provided keys of learning opportunities that empowered the lives of children at an early stage of development. Ethel also supported adults in making sure important paperwork was completed correctly. Ethel had a strong faith in God and that was her motivator. Additionally, she also distributed the Pittsburgh Courier, the African-American weekly newspaper.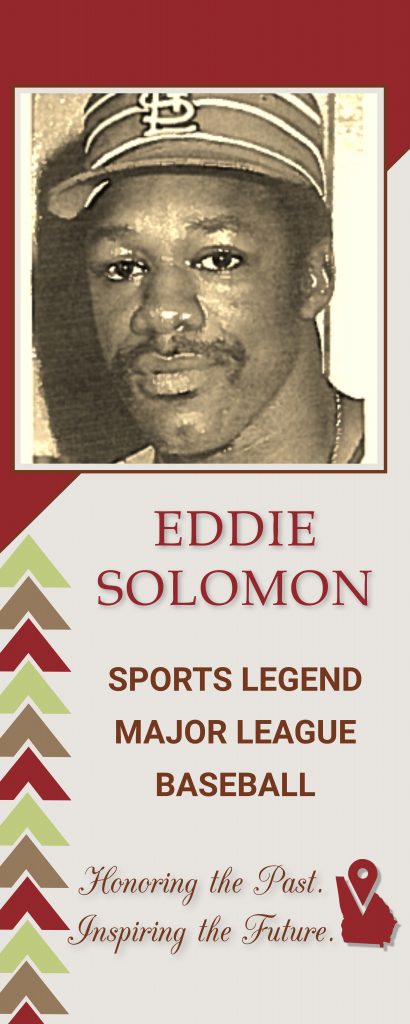 Mr. Solomon was a local Civil Rights Activist and served as treasurer for both the NAACP and SCLC local chapters. He ran for Post 4 of the Houston County Board of Education and City Council in 1970. He owned and operated a barber shop and cleaners on Commerce Street in Perry and a barber shop in Warner Robins. Mr. Solomon also provided a place were young people could meet for dances and gatherings, the Solomon Café. Eddie also managed the Perry Red Sox Baseball Club. He served in World War II and was a retiree of Robins Air Force Base.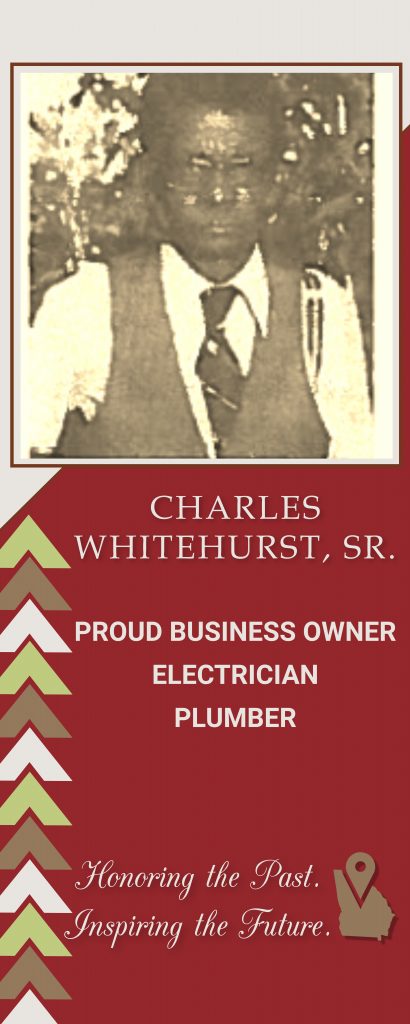 Charles was the son of David Whitehurst and Bessie Nelson Whitehurst. He attended the schools of Houston County Georgia. At an early age, he became a member of Greater Union Baptist Church in Perry, Georgia. He later joined the Houston Mt. Zion Baptist Church in Bonaire, Georgia. He was retired from the Medusa Cement Plant and was a self-employed electrician and plumber.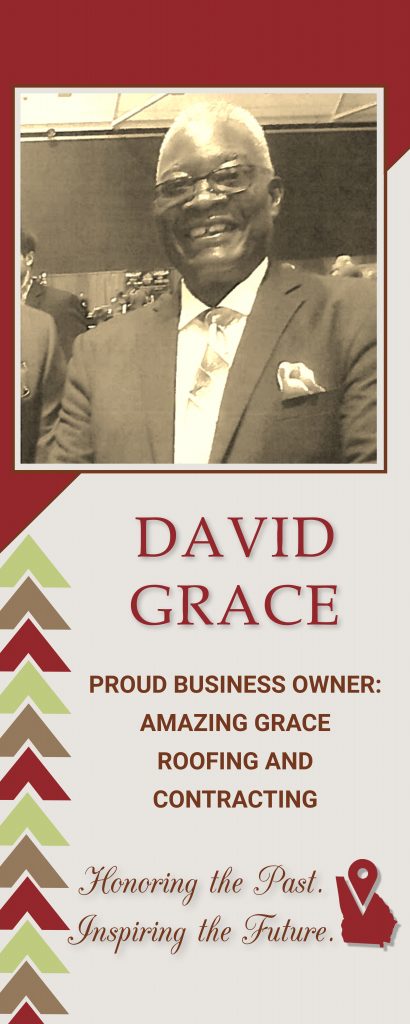 Founded by David Grace in 1988, Amazing Grace Roofing & Contracting specializes in metal and shingle roofing, vinyl siding, and minor residential renovation. Serving Georgia for over 32 years, this licensed and insured business offers free estimates. Since founding his first business, he has also expanded his entrepreneurship in direct sales and owns and operates an apartment complex near Robins Air Force Base. David has always had a passion for helping others live their best lives and has found fulfillment through jobs of service that enable him to support the community. He serves as a Deacon and Usher at New Beginning COC in Milledgeville and is a proud husband and father of two wonderful girls and three boys.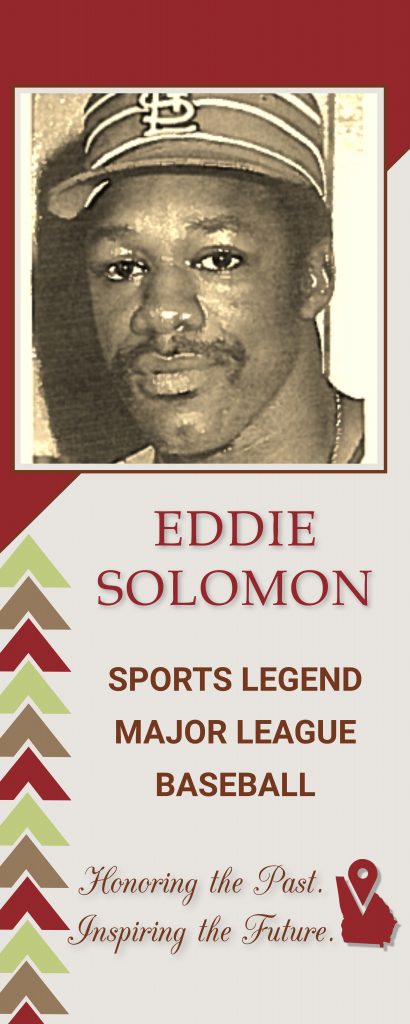 Eddie Solomon, Jr, nicknamed "Buddy J" was born and raised in Perry. He was an American right-handed pitcher in Major League Baseball, making his debut for the Los Angeles Dodgers in 1973. For ten seasons (1973 to 1982), he was a Pitcher with the Los Angeles Dodgers, Chicago Cubs, St. Louis Cardinals, Atlanta Braves, Pittsburgh Pirates, and Chicago White Sox. He was signed as an amateur free agent by the Dodgers in 1969 and marked his Major League debut with the Los Angeles Dodgers in 1973. The following season he appeared in 4 games with the Dodger's squad which went on to capture the National League Pennant. He secured a spot within the Brave's rotation in 1977 and saw his games pitched and innings statistics increase. However, it would be with the Pirates when he experienced his most success. After retiring from baseball, he worked as an automobile salesman in Macon, where he died in an automobile accident at the age of 34.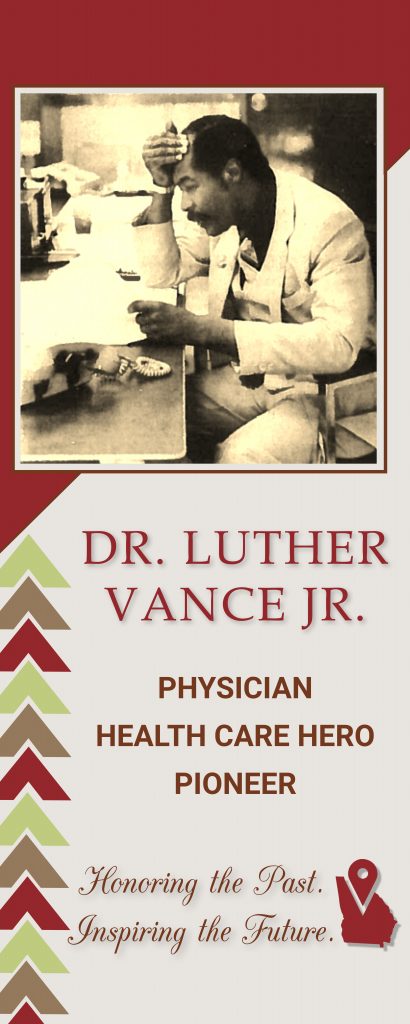 Dr. Luther Vance, Jr. is a native from Perry who began the practice of general medicine. While working as a pharmacist, Vance attended a post graduate school at Wayne State University, medical school at Meharry and received his M.D. degree in 1975. He returned to Perry and was the first black physician to set up practice in Houston County. Dr. Vance's patients were from the town and communities all around. He set aside every Tuesday and Thursday night to go into the city jail and county correctional facility to see to the medical needs of the prisoners.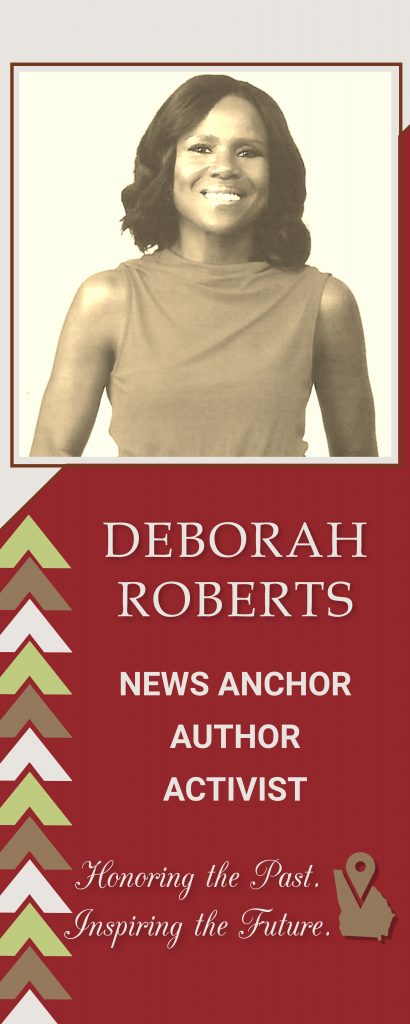 Deborah Roberts is an award-winning ABC News Correspondent for 20/20, Nightline, Good Morning America and World News Tonight with David Muir. A media veteran, Roberts is a highly respected journalist who has traveled the world in her reporting. Roberts' long form reports on 20/20 have consistently produced extraordinary narratives such as the intimate profiles of first lady Michelle Obama, first daughter Ivanka Trump and an in-depth investigation into abuse within the Amish Community. She has reported from Africa on children orphaned by the HIV/AIDS crisis and was part of the historic coverage of the inauguration of President Barack Obama. Roberts has been awarded multiple Emmy awards for her national and international coverage of world events. Roberts in the author of "Been There, Done That: Family Wisdom for Modern Times" a book written with her husband, Al Roker.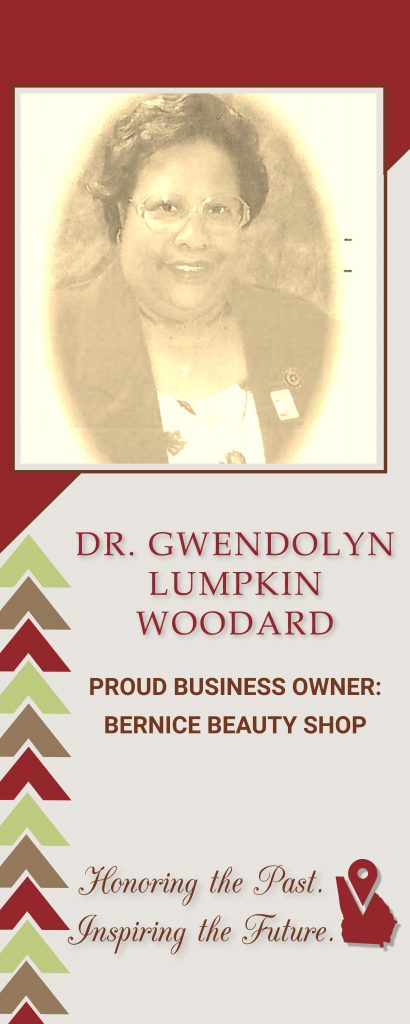 A native of Perry, the third child of the late Robert Lumpkin Sr. and Anna Mae Duhart Lumpkin. Gwen is the co-owner and operator of Bernice Beauty Shop where she has been doing hair there for over 40 plus years and currently continues to do so. Gwen is known for being "rational" and "practical" the two go hand in hand. She has learned how to implement these two with the people that have either sat in her chair or someone she might just cross paths with. A logical thinker, no quick decisions because of how she might feel. Lastly, Gwen is what you would call a "frank" person – "Tell it just like it is" but all and all you could not meet or talk to a more genuine and helpful person.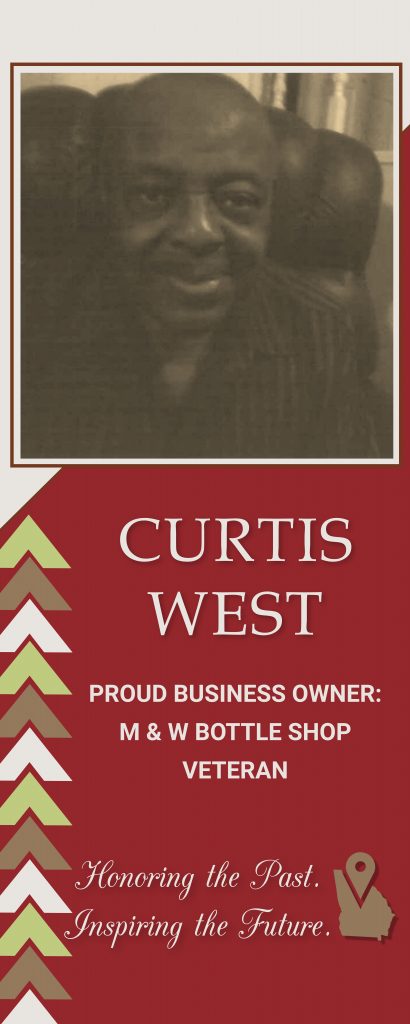 Curtis was the son of Cain West and Susie Brown West. He was educated in the Houston County School System. He joined the U.S. Army and received his Honorable Discharge. He worked in the Civil Service on Robins Air Force Base in Warner, Robins, Georgia for over 30 years until his retirement. He was the owners and operator of the M&W Bottle Shop in Perry, Georgia for many years. He was a member of Friendship Baptist Church in Henderson Georgia. He was also a member of the Masonic Lodge #83 in Cordele, Georgia.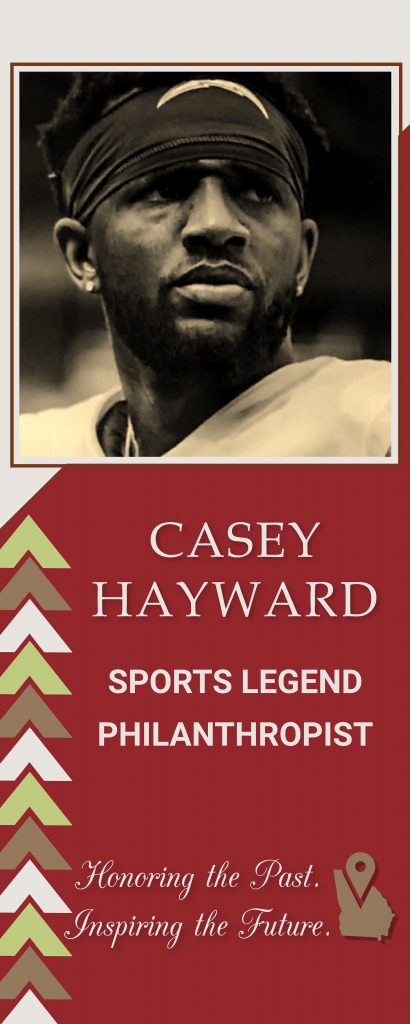 Hayward attended Perry High School, where he was a three-sport star in football, basketball and track. In football, he was a three-year starter at quarterback and also played several games as cornerback. Hayward ultimately chose to attend Vanderbilt University because of the school's academic ranking and the fact that the school is a member of the Southeastern Conference. The Green Bay Packers selected Hayward in the second round (62nd overall) of the 2012 NFL Draft. He was the fifth cornerback selected in 2012 and Vanderbilt's highest defensive back drafted since Fred Vinson in 1999. On March 13, 2016, the San Diego Chargers signed Hayward to a three-year, $15.30 million contract that includes $6.80 million guaranteed and a signing bonus of $2.50 million. On March 11, 2018, the Los Angeles Chargers signed Hayward to a three-year, $33.25 million contract extension that includes $20 million guaranteed and a signing bonus of $8 million. The contract is worth up to $36 million with incentives and keeps Hayward under contract through the 2021 season. Hayward is involved in many philanthropic endeavors and started his own charity aptly named the Hayward's Hands Foundation. Through the Hayward's Hands Foundation, Hayward donates scholarships to teenagers in his hometown that display hard work and dedication to school, athletics, and to their community. On May 5, 2015, he awarded two $5,000 scholarships to two female students that attend his high school alma mater. Hayward also announced his foundation will continue to award scholarships to students and agreed to pledge $50,000. Hayward continues to support Perry High School through donations of funding, including a $10,000 to the Perry Panthers Football Department and offering a 6-week bootcamp training course for Juniors and Seniors to prepare them for scholarships. Casey continues to volunteer his time and services to give back to children through holiday shopping sprees and by participating in Zoom parties with hospitals during the holidays.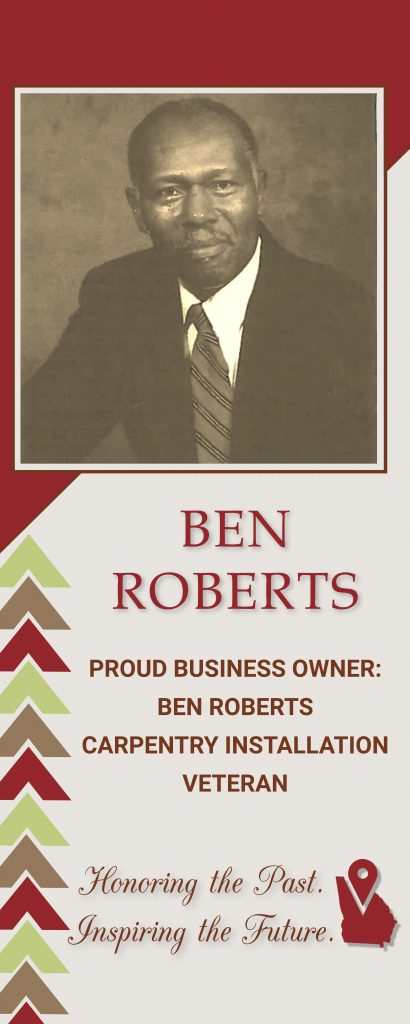 Ben was a laborer for years who went on to build a small carpet business. He was a master of carpet installation throughout the state of Georgia. He was well known for the work that he did and so many have said that Ben was the only person they'd use to buy their carpet. He had an infectious, toothy grin and always had something to say to make you laugh. His motto was "You've got to live the life that you sing about in your song". He loved to sing and sang in the choirs at the New Hope Baptist Church where he also served a s Deacon. Ben was a beloved brother, husband, father, and grandfather.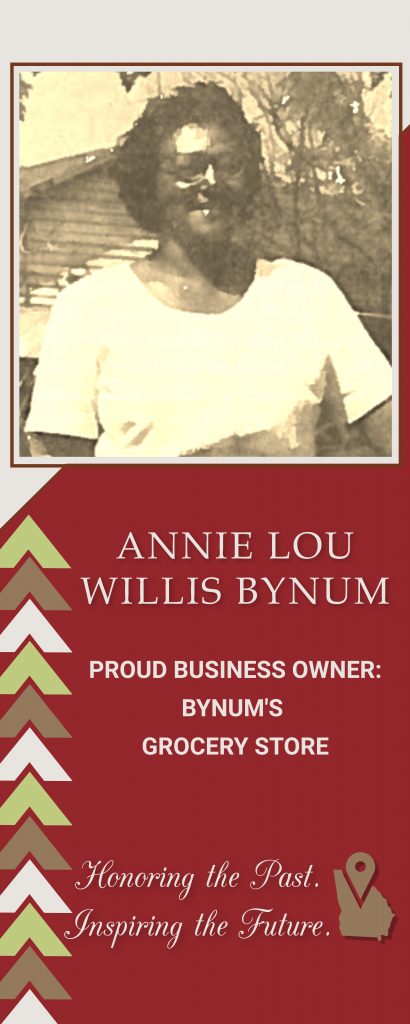 As a beacon of Light in the New Hope Community, Annie Lou Williams Bynum was the proprietor of Bynum's Grocery Store located at 643 Howard Street. She managed the store from 1950 to 1990. This was a family business in which her husband and daughter assisted in the daily operations of the store. To community, not just New Hope but residents of Perry could depend on Bynum's Grocery for whatever food items that they needed. She helped her friends and neighbors by granting credit. Sometimes she would extend credit to help some individuals stay afloat. She was one of the Villagers who knew the children and their parents. She watched out for them and in many cases, helped them to stay out of trouble. Hot meals were always available to those who came around hungry. In 1960, a Teen Center was opened adjacent to the store. It was one of the places that gave Black youth an opportunity to have a social outlet. They knew the rules and the also knew that Ms. Annie was not taking any bad behavior. Annie Lou Williams Bynum – a wife, mother, a grandmother and an entrepreneur.
James Davis's roots run deep in Perry, Georgia. Musicians have been in his family since the days of slavery. James was a renowned musician known by many as the "Drum Beat Man". He was inducted into the Music Hall of Fame and was highlighted in The Living Blues Magazine. He recorded numerous lp's and cd's.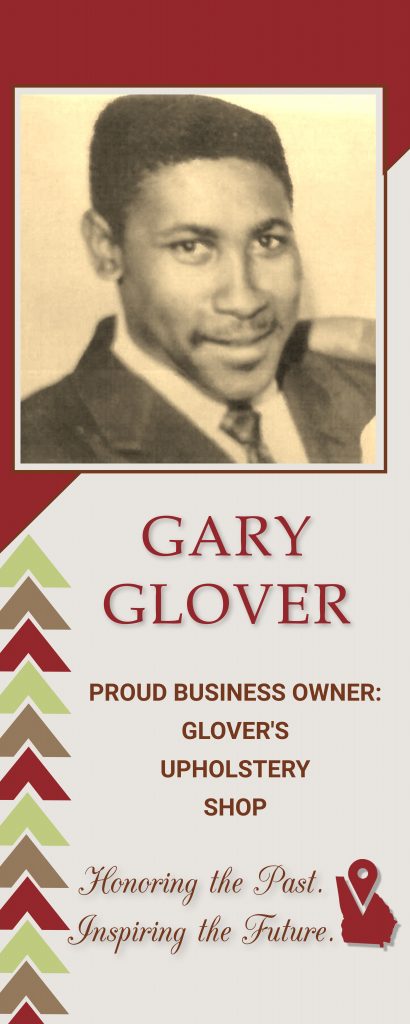 Gary Glover was born in 1938 and attended the public schools of Houston County. He was a member of New Hope Baptist Church. Mr. Glover was a civil service employee of Robins Air Force Base and owner of Glover's Upholstery Shop. He was passionate about restoring furniture, cars, and mobile homes. Mr. Glover was married to the late Daisy Glover, with whom he has two children. Mr. loss passed away after a lengthy battle with kidney failure in 1986.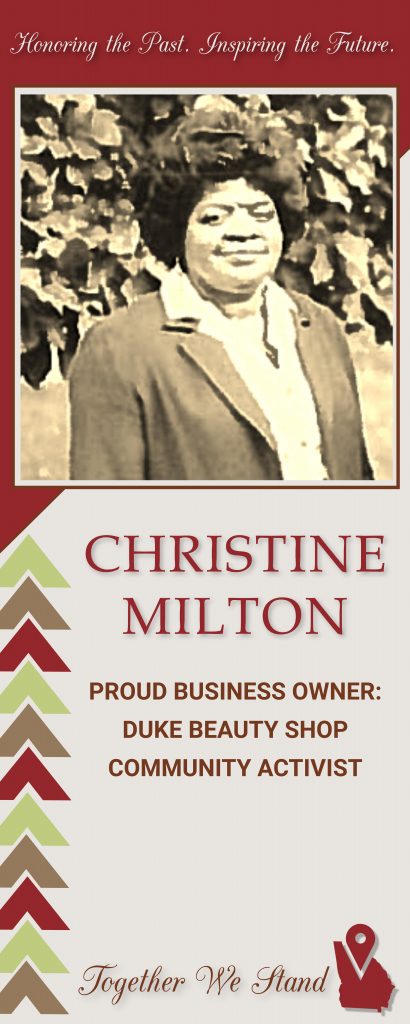 Christine Buckles Milton was one of the leading hair stylists in Perry. People made a beaten path to her shop from all over town. This enabled her to assist in the college education for several deserving students in the community. She was a former president of the Progressive Women Society, Recording Secretary for the Georgia Beauty Culturist League Inc. and the Natural Beauty Culturist League Inc.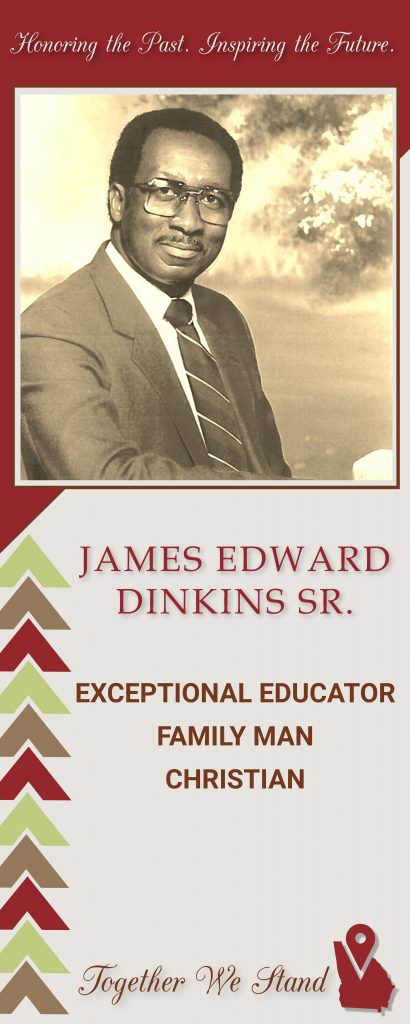 James Edward Dinkins, Sr. started his professional career as a classroom teacher at New Hope Elementary School before moving on to Perry High School as Assistant Principal and retiring as Assistant Principal of Perry Middle School. He was a songster, church treasurer and deacon until his demise. A dedicated family man, he possessed an unusual passion for mentoring troubled youth, and visiting the elderly and the sick. He served in the United States Army and was involved in various community activities with his brothers of Alpha Phi Alpha Fraternity.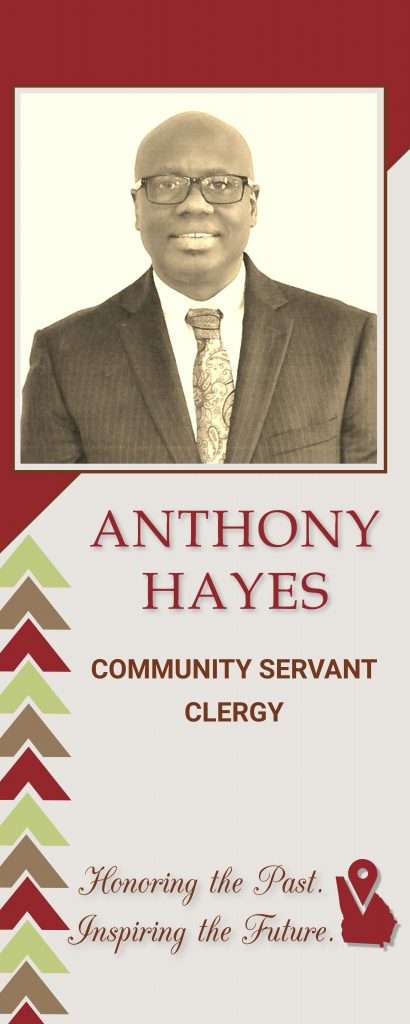 Anthony Hayes is an ordained minster of the Christian Methodist Church and is in his third year as Pastor of St. James CME Church in Perry, ga. Part of his personal ministry is investing in the community and he has led the church in that area. Saint James has hosted a back to school event which has resulted in over 600 students in Perry receiving book bags, school supplies and essentials to equip them for learning. In addition to food, games and supplies, laptops and iPads were given out. He has led St. James in adopting the Perry Housing Authority to offer onsite bible study and assistance in tutoring. During the COVID-19 pandemic, St. James provided essentials and food to all the residents and provided the seniors in the community with gift bags and a supply of masks and hand sanitizer. Serving the community has been a major initiative of Pastor Hayes and he diligently seeks out ways to be of service to those in need in the community.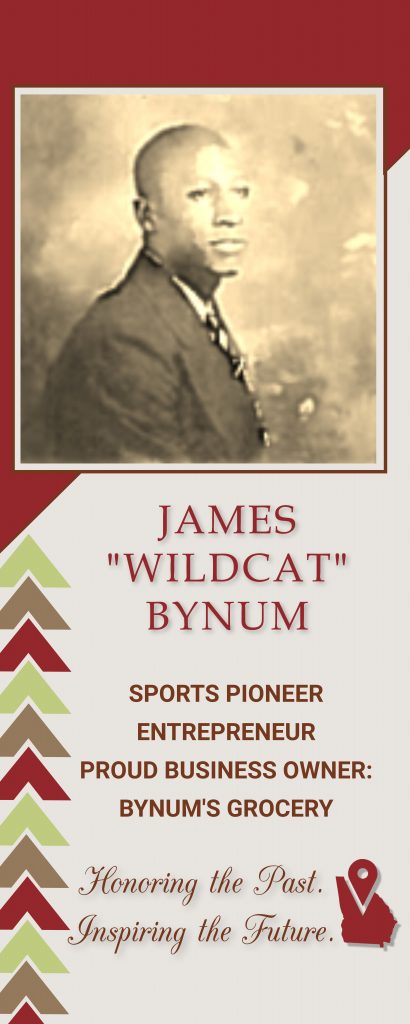 It was many, many years ago when the Fort Valley football team was an infant. In 1929 (approximately), Dick Richardson was the football coach , and even though during this period few Black colleges and high schools had the necessary setting and equipment for playing the fame of football, the Fort Valley team was well known for its valor and prowess. They were "Champs" then. According to the interviewees, Mr. A.J. Evans Sr., a local famer loaned them a truck filled with hay in which to travel. Local merchants donated items of clothing to assist in outfitting the team. One pair of football shoes and a pair of tennis shoes were shared by two or more players. Each one wore a tennis shoe and a football shoe to gain footing while playing. When Mercer University bough new football gear for its team, their practice clothes were given to the Fort Valley football team. They were tattered, but that early football team was the pride of the college and was well known by white and Black fans for its enviable football record. On one occasion, so I was told, the football team, on an open hay filled truck, journeyed to Americus to play a football game against Americus Institute. Pete Hamilton said, "We had to clear a cornfield before the game in order to have a place to play." After suffering a terrible beating from the Americus team, at the end of the first half, the team captain, James Bynum, native of Perry, GA gave the team a pep talk and the words to the team that gave birth to the "Wildcat" name. The captain of this 1929 football team said "Get up from here and go out there and give those fellows a fight, you-you-you, you wildcats." The Fort Valley team rallied and racked up a victory over the Americus Institute, and thereafter, the team captain was known as James "Wildcat" Bynum and the team became the Fort Valley Wildcats. Among his many football and academia achievements, he was also a pioneer in entrepreneurship. His business ventures including farming, running a grocery store, and allowing community folk an opportunity for growth and expansion. Wildcat was an exemplary role model to his family by providing a business mindset that has continued to this day.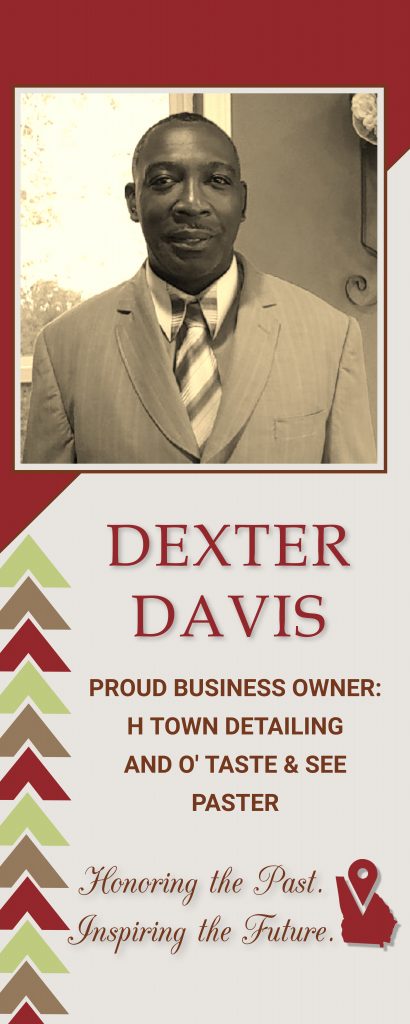 Although Dexter Davis started his detailing business with only a bucket, water hose, and a generator, Dexter Davis has grown H Town Detailing in Perry to a full-scale business over the past 23 years. Additionally, Dexter also owns and operates O' Taste & See, the first Black owned food truck to be licensed in Perry. Dexter also serves as the pastor of Growing In Unity Together Ministries. The church was founded 6 Years ago, with humble beginnings in a house at 400 Riley Street, Perry. With a mission to serve the community by seeking the need of the people - whether prayer, food, or just someone to talk to – they strived to be there. Eventually, the church relocated to where they currently worship at 717 Commers Street, Perry. Dexter challenges his congregation and the community to remain focused, never forget where you came from and always pray for one another. A proud family man, Dexter has been married to his wife for 22 years and together they have five children and seven grandchildren, whom he loves dearly.