Fire Chief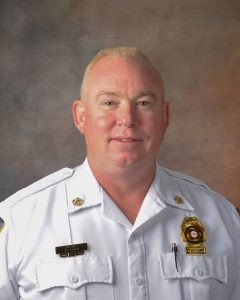 1207 Washington Street
Perry, GA 31069
It is said that the first volunteer department was formed in 1910 and that it had seven members. They were Thomas Mason Sr., Asa Woodard, Lott Townsley, Rudolf Shilling, Fred Shilling, Rupert Day, and Miller Day.
If the Bell was sounded alerting the men of a fire, Mr. Mason vividly recalled "they would have to go to the station and pull the "Golden Hose Wheel" to the hydrant closest to the fire". The city did not have adequate water supply so the primary objective for the firemen was to wet down the surrounding buildings and thus impede the fires spread (A Land So Dedicated).
In 1911, fire brigade volunteers included Asa Woodard, Rupert Clay, Clyde Day, Eby Holtzclaw, Lott Townlsey, Sam Hemmingway, Ralph Miller, Miller Edwards, Harper Short, Carey Andrew, Gordon Rogers, Fred Shilling, and Rudolph Shilling.
In 1933, the department was moved along with the city hall into the Muse Building, which was previously occupied by Houston Hardware Company. The building was remodeled to house the fire truck in one half of it.
In 1940, during the January City Council meeting plans were made to give Perry more adequate fire protection. The department was reorganized, new equipment bought, and all existing equipment ordered completely reconditioned. A regular volunteer department was organized with Clifford Grimes as Fire Chief, Cecil Moody as First Assistant Fire Chief, and E.F. Bellflower as Second Assistant Fire Chief. Police Chief H.D. Gordy who was acting Fire Chief was relieved of duties and allowed to resume duties as Police Chief.
The city was divided into four zones with a system of signals to facilitate locating fires when the Bell was sounded. Rubber coats and helmets were ordered for the men. Drills were started for them to learn more about handling situations and to be uniformed when they arrived at the fire scene. For six weeks prior to this decision the department had several fires which focused the attention of the city on the necessity of improving the department.
In 1943, under the leadership of Chief Cecil Moody and the city council, the department was brought up to full strength and reorganized into a highly efficient department. They had drills so the firefighters could learn the many tasks that had to be done on the fire ground. Those that volunteered their time were Pete Henderson, Bill Best, W.R. Hardy, E.F. Bellflower, Aldine Lasseter, John Heller, Cap Arnold, Parker Riser, and Henry Mathews. Each man was assigned to special duties.
In 1953, the department moved to the Commerce Street location, along with city hall, into the new building built there. That building is now the Perry Volunteer Outreach building. The department purchased its third fire truck, a 1952 Peter Pirsch Pumper on a Ford F-7 Chassis with a pump capable of supplying 750 gallons per minute, a 500-gallon tank, and all equipment that was needed to supply it. Years later in 2008, this vehicle was found abandoned in a junkyard and over a two-year span was completely restored by a group of firefighters. It would be called Engine-21 and is still currently used for parades, wedding, and firefighter funerals.
In 1963, the department hired its first full-time firemen. They were L.B. Moody, and Bobby Taylor, rotating shifts of twenty-four hours on duty and twenty-four hours off duty. The city still heavily relied on the volunteers. The department was moved to the Washington Street location at the then new municipal building. The department purchased its fourth fire truck, a 1962 Peter Pirsch on a Ford C-800 Chassis, also complete with a 500-gallon tank and the ability to pump 750 gallons of water per minute. Years later in 2008, this vehicle was found abandoned in a junkyard and over a two-year span, was completely restored by a group of firefighters. It would be called Engine-21 and is still currently used for parades, wedding, and firefighter funerals.
New hiring's continued with Marion Fuller ('66), Roger Crumpton ('68), Harris McIntyre ('69), Earl Green and Johnny Langston ('70). In 1970, Sirah Lawhorn became the first full-time Fire Chief of the Perry Fire Department.
In 1972, the department purchased its fifth fire truck. It was a Peter Pirsch on a Ford C-800 chassis. The first of its kind in the city, this vehicle had a 1,000 gallon per minute pump along with a 500-gallon tank and the equipment needed to supply it.
Chief Sirah Lawhorn retired in 1980, and then firefighter Gary Hamlin became the second full-time fire chief, and the youngest fire chief in the State of Georgia at the age of twenty-four. The hiring continued with the addition of seven more personnel from 1980-83.
In 1984, Chief Hamlin initiated the first responder program. Perry Fire Department became the first fire department in all of Houston County to be trained and assist on medical calls. This called for more certification training and a lot of time from the firefighters, but it enabled the department to better serve the citizens of Perry, giving them some sort of medical treatment until an ambulance could arrive. This would soon become the norm throughout all of county with the Houston County Fire Department receiving the same training. Years later, the Warner Robins Fire Department would also follow the example of the Perry Fire Department.
In 1989, the department purchased its first mini pumper/rescue truck. Again, a first for the department, this vehicle was an American Eagle on a Ford F-350 chassis complete with pumping capabilities and would be called Rescue-25. This smaller vehicle would also be equipped with the Jaws of Life equipment.
In 1991, the Houston County Emergency Services E-911 went on line throughout the county.
The following year, the department purchasing would purchase its sixth fire truck, a KME on a custom chassis. This vehicle would be equipped with an even larger pump, capable of delivering 1250 gallons per minute. It would be known as Engine 27 and would fight many fires throughout its years of service.
In 1996, Chief Hamlin along with city businessman Riley Young, started a fund-raiser to purchase the department a Cairns I.R.I.S. system. This was a helmet mounted thermal imaging system costing $25,000 that enabled firefighters to see in a smoke-filled environment. With this equipment, firefighters now had the cutting-edge technology to see in smoke filled environments. It was stated: "if this unit helps in the saving of only one life, then at that time it will have paid for itself".
In 1997, the department purchased its first aerial truck. This would be the first aerial fire truck in Houston County. The truck had a ladder capable of extending to heights of 75 ft. It also had an aerial waterway and a pump capable of delivering 1500 gallons per minute. It was delivered on March 16, 1997 and arrived to a host of firefighters and their families to conduct the ceremonial "backing in" of a new apparatus.
New hiring's would resume the following year and would include Ephraim Wheeler, who is now the Chief of Prevention for the department, and Billy Gordon, an operations Lieutenant.
In 2004, then fire chief Gary Hamlin resigned from his position. The department would search for nearly a year until the hiring of Freddy Howell in 2005. One year later, Chief Howell would resign from his position. Amidst change, the department was then realigned, and the Perry Department of Public Safety would be formed. Then police chief George Potter would be named the Public Safety Director. He would appoint then retired fire chief Frank Fennel to lead the fire department while an extensive search commenced for new leadership. In September 2006, director Potter hired fire chief Joel Gray to lead the department. During his tenure, the department made strides to reidentify itself. Modern techniques were introduced, and in 2009, the department would separate, and the department of public safety would be disbanded. In 2013, the idea of a fire fee was developed and was enacted. With this, the department would hire twenty-on new firefighters, more than doubling the size of the department. This was one of many projects that were accomplished to bring the department up to new standards. During this time, a new fires station would be built. It would be called the Davis Farms Fire Station, built on land generously donated by the Davis family along Houston Lake Road. The department would add several more pieces of equipment, to include another pumper and a fleet of brush firefighting vehicles. In May of 2016, Chief Gray retired.
The department would continue to search for a new chief until the hiring of chief Lee Parker was in October 2016. Currently, Parker is still the chief of the department. Under his tenure, the department added several new pumping apparatus, to include a new platform ladder truck capable of reaching heights of 100 feet and pumping over 2000 gallons of water per minute. The department also added a fleet of smaller rescue type apparatus to handle the ever-growing number of emergency medical calls for service. The city would continue to grow to nearly 29 square miles, with building permits and growth setting records year after year. The department staffing remained at 42 full time personnel. Chief Parker also completed a restructuring of the command staff in the department. Positions were created for Assistant Fire Chief, Training Chief, and Prevention Chief. They would be filled by Kirk Crumpton, Charles Mundy, and Ephraim Wheeler.